Le 22 septembre 2022 posté par Metalfreak
Line-up sur cet Album
Angelcorpse – chant
Rhodz Costa – guitares
Style:
Thrash Metal

Date de sortie:
31 août 2022

Label:
Thrash Or Death Records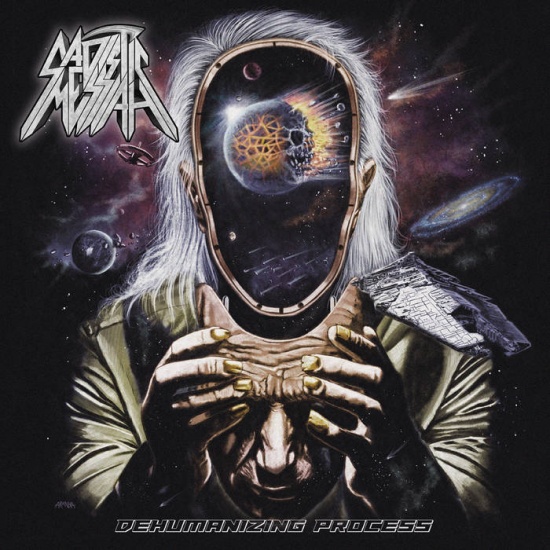 Note du SoilChroniqueur (Metalfreak) : 8/10
Quasiment trois ans que sortait le premier album du duo de São Paulo Sadistic Messiah qui proposait, avec High voltage demons, un bon vieux thrash metal old school – parce que j'aime les pléonasmes – qui vantait des influences à chercher dans les débuts de groupes comme Destruction, Exodus, Deathrow, Assassin, The Mist, Necronomicon, Pestilence, Forbidden, Dark Angel, Exorcist (élément déclencheur pour ma part tant je suis fan de l'album Nightmare theatre), Piledriver (deuxième élément déclencheur) ou, compatriotisme oblige, Sepultura.
Tu m'étonnes qu'avec des références pareilles, le vieux thrasher que je suis en avait sa lessiveuse qui applaudissait du couvercle !
Alors, on ne va pas se mentir : déjà qu'à la base, ce genre de thrash metal n'offre pas grandes surprises à la base, celui de Sadistic Messiah ne va rien révolutionner, mais ce qu'ils font, ils le font bien.
Grosso modo, le duo a repris pour Dehumanizing Process les choses où il les avait laissées avec High voltage Demons.
Définitivement résolus à perpétuer un thrash metal tout ce qu'il y a de traditionnel avec son chant à la Petrozza, ses riffs saccadés, ses quelques soli mélodiques et sa rythmique principalement rapide, ce Dehumanizing Process doit autant, toutes proportions gardées, à Beneath the Remains qu'à Endless Pain.
C'est agressif, vicieux, obscure, définitivement ancré dans la deuxième moitié des eighties et ça risque de plaire tout particulièrement aux abonnés de la chaîne YouTube New Wave Of Old School Thrash Metal.
Et en ça, le pari des deux Brésiliens est réussi !
A noter que cet album sort en CD en édition limitée à 500 copies par le label Brésilien Thrash Or Death Records, ainsi qu'en cassette limitée à 100 copies sur le label Chilien Misfortune Records, idem sur le label Hollandais Take This Torch Records.
On se dépêche, il n'y en aura pas pour tout le monde !
Tracklist :
1. Engineering the Macabre (4:45)
2. Mentally Deranged (4:29)
3. The Sanity Leveller (5:00)
4. Portals to Malignancy (3:50)
5. Fightning Man on Mars (4:01)
6. Reanimating Bodies (3:47)
7. Skeletons of Mankind (4:11)
8. Endangered Sapiens (4:53)
Facebook
YouTube
Instagram
Bandcamp
Chronique "High voltage demons"
Retour en début de page