Le 4 janvier 2020 posté par Metalfreak
Line-up sur cet Album

Rhodz Costa – Tous instruments / Hellish Angelcorpse - Chant.
Style:
(Black) Thrash Metal

Date de sortie:
18 octobre 2019

Label:
Thrash Or Death Records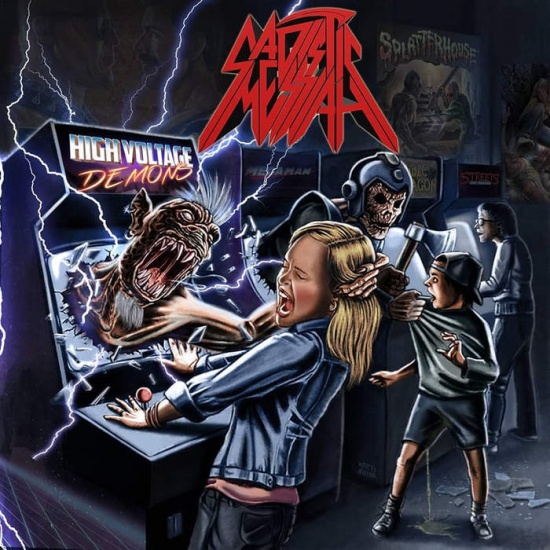 Note du SoilChroniqueur (Metalfreak) : 7,5/10
Des fois, dans la boite mail du Facebook de Soil Chronicles, j'ai le plaisir de répondre favorablement à la demande de chronique de quelques groupes obscurs de speed / thrash metal. Pour le coup, lorsque le duo brésilien de São Paulo Sadistic Messiah a contacté le webzine, il était évident qu'un groupe influencé par Destruction, Exodus, Deathrow, Assassin, The Mist, Necronomicon, Pestilence, Forbidden, Dark Angel, Exorcist (élément déclencheur pour ma part tant je suis fan de l'album "Nightmare theatre"), Piledriver (deuxième élément déclencheur), Sepultura et Heathen allait m'intéresser au plus haut point.
Formé par Rhodz Costa (Ex-Infected, Side Effectz, Blasthrash, Heritage, Bewitchment) qui se charge de tous les instruments et du vocaliste Angelcorpse (Hellish Grave, Ex Amazarak), Sadistic Messiah est un veritable retour en arrière de presque 35 ans et les fantômes de "Infernal overkill", "Nightmare theatre", "Breaking the silence", "Morbid visions" ou "Stay ugly" sont bien presents.
Sur un riffing saccadé typique du genre, une production crue et old school, sur lequel un chant façon Tom Angelripper époque "In the sign of evil" / "Obsessed by cruelty", la musique de Sadistic Messiah ravira les plus nostalgiques du thrash metal dans sa forme la plus evil et obscure. En huit titres plus une intro, le duo nous balance un revival de la première moitié des eighties sur lequel se greffent des éléments sortis tout droit de la NWOBHM de la même époque, et se permet même le luxe de quelques pointes mélodiques dans le jeu de guitares.
Clairement, le duo n'en a rien a foutre de la modernité et se complaît, titre après titre, à rester dans une musique aussi homogène que rétroactive.
Macabre, evil, obscur… un pur album de bon vieux thrash metal !
Tracklist :
1. From Beyond (Instrumental) (1:03)
2. High Voltage Demons (3:53)
3. Antichrist Plague (4:01)
4. Earthshaker Nightmares (3:34)
5. Die by Witchcraft (3:58)
6. The Crucifix Slaughter (4:33)
7. Mastermind of Insanity (4:23)
8. Victimized (3:52)
9. Sadistic Messiah (4:27)
Retour en début de page