Le 17 septembre 2021 posté par Metalfreak
Line-up sur cet Album
Micki Richter - Guitares, Chœurs
Joris Nijenhuis - Batterie, Chœurs
Alexander Krul Chant, Choeurs, Programmations
Thorsten Bauer - Guitares, Basse, Choeurs, Mandoline
Elina Siirala - Chant
Guests : Clémentine Delauney - Chant sur 5 / Christel Fichtner - Choeurs / Thomas Roth - Harpe / Susanne Dahle Johansen - Narrations sur 1 / Uwe Fichtner - Choeurs / Lea-Sophie Fischer - Violons.
Style:
Metal Symphonique

Date de sortie:
17 septembre 2021

Label:
AFM Records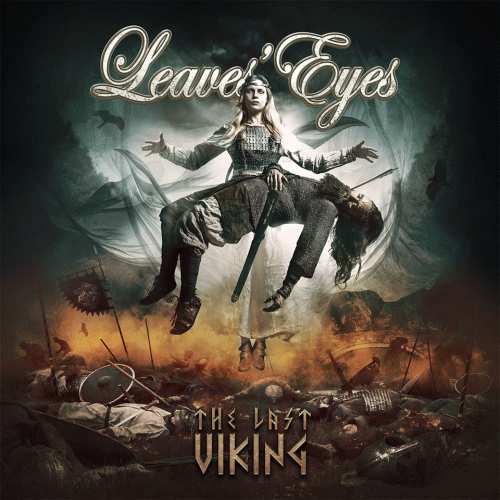 Note du Soilchroniqueur (Celtikwar) : 6/10
Quand on insiste pour être sûre d'être bien entendu.
Leaves' Eyes est sans aucun doute l'une des formations actuelles les plus marquantes du heavy symphonique. Les Allemands ont réussi malgré la perte de leur voix emblématique à maintenir le cap et ce n'est pas ce huitième album « The Last Viking » qui nous dira le contraire.
C'est pour cela qu'il sort une nouvelle fois ?
Cet opus nous remontre le groupe dans sa force et ce qu'il aime faire le mieux. Un bon heavy metal symphonique, des guitares qui laissent place à des claviers, un chant féminin puissant et doux.
Alors oui il est vrai que la deuxième voix masculine, j'en ai jamais été trop friand. Avoir ce côté grave et bestial derrière, oui il est vrai que cela peut apporter une nouvelle dimension… Jouer sur deux tonalités, l'effet Ying Yang…. Enfin bon, essayer de le justifier comme vous voulez, là je n'accroche pas.
Bref cet album avait plu à sa sortie mais pas forcément convaincu. Oui il y a des titres corrects et captivants par leur côté hymne (« For Victory », « Skerland » ou « Varangians ») puis entendre Clémentine Delaunay (qui officiait avant dans Whyzdom et que l'on retrouve dans Vision of Atlantis ou Exit Eden) est toujours un bon moment.
Le groupe ou le label a décidé pour 2021 de le republier avec plein d'options. Alors on a quand même un très beau résultat et un packaging plus que sympa. Il faut l'avouer, là-dessus, le paquet a été mis et on ne peut pas se plaindre.
Alors si vous aviez été séduit l'année dernière, là vous serez conquis. Vous étiez mitigé ? Vous le serez peut être toujours, mais c'est quand même plus beau. Vous êtes un fan du groupe ? Cela ne va pas changer et vous serez content d'avoir un beau trophée de plus.
Tracklist :
1. Death of a King 02:33
2. Chain of the Golden Horn 04:00
3. Dark Love Empress 04:43
4. Serpents and Dragon 04:30
5. Black Butterfly (ft. Clémentine Delauney) 04:25
6. War of Kings 04:18
7. For Victory 03:58
8. Two Kings One Realm 02:39
9. Flames in the Sky 04:48
10. Serkland 04:19
11. Varangians 03:55
12. Night of the Ravens 04:35
13. The Last Viking 10:04
14. Break into the Sky of Aeon 05:01
Tracklisting
CD / DVD: (02:36:04)
CD1 01 – Death Of A King
CD1 02 – Chain Of The Golden Horn
CD1 03 – Dark Love Empress
CD1 04 – Serpents And Dragons
CD1 05 – Black Butterfly (feat. Clémentine Delauney)
CD1 06 – War Of Kings
CD1 07 – For Victory
CD1 08 – Two Kings One Realm
CD1 09 – Flames In The Sky
CD1 10 -Serkland
CD1 11 – Varangians
CD1 12 – Night Of The Ravens
CD1 13 – The Last Viking
CD1 14 – Break Into The Sky Of Aeon
CD2 01 – Death Of A King (Instrumental)
CD2 02 – Chain Of The Golden Horn (Instrumental)
CD2 03 – Dark Love Empress (Instrumental)
CD2 04 – Serpents And Dragons (Instrumental)
CD2 05 – Black Butterfly (Instrumental)
CD2 06 -War Of Kings (Instrumental)
CD2 07 – For Victory (Instrumental)
CD2 08 – Two Kings One Realm (Instrumental)
CD2 09 -Flames In The Sky (Instrumental)
CD2 10 – Serkland (Instrumental)
CD2 11 – Varangians (Instrumental)
CD2 12 – NightOf The Ravens (Instrumental)
CD2 13 – The Last Viking (Instrumental)
CD2 14 – Break Into The Sky Of Aeon (Instrumental)
CD3 01 – Await Orre's Storm (Soundtrack)
CD3 02 – Galeids Of The Væringjar (Soundtrack)
CD3 03 – Dread Hand'sFame (Soundtrack)
CD3 04 – Into The Depths Of Hell (Soundtrack)
CD3 05 – Chain Of The Golden Horn (Soundtrack)
CD3 06 – Land Of The Rus (Soundtrack)
CD3 07 – The Golden Secret (Soundtrack)
CD3 08 – Past Wide Plains(Soundtrack)
CD3 09 – Death Of A King (Soundtrack Version)
CD3 10 – Blazing Waters (2020 Version)
Bandcamp
Facebook
Site officiel
Instagram
Myspace
SoundCloud
Spotify
Twitter
YouTube
Chronique de l'album première édition
Retour en début de page