Le 17 septembre 2021 posté par Metalfreak
Line-up sur cet Album
Elio : Guitares, Chant
Kevin : Batterie
Valentin : Basse
Style:
Speed Garage Rock

Date de sortie:
17 septembre 2021

Label:
The Sign Records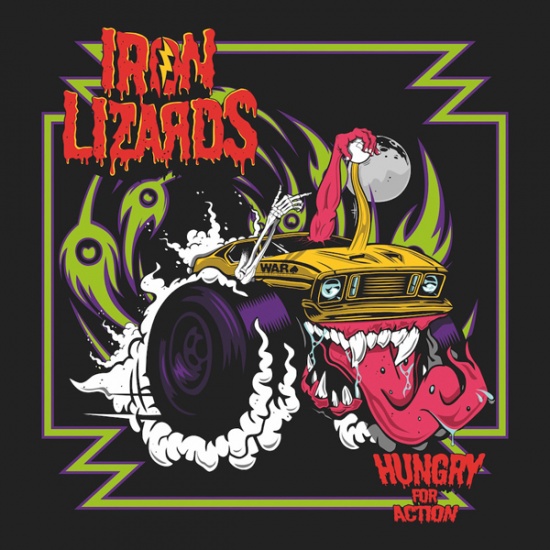 Note du SoilChroniqueur (Metalfreak) : 8,5/10
Si eux, ils ne sont pas énervés… Le rock 'n' roll, ils le transpirent par tous leurs pores. Vindiou quelle furie !
Douze titres, 27 minutes, une déferlante de riffs et de sauvagerie capables de coller la honte à n'importe quelle formation de fast core !
C'est que les trois lézards de fer s'y entendent pour nous coller du son à la The Stooges ou MC5, avec une furie et une attitude à la Zeke ou Hellacopters, tout ce petit monde s'étant acoquiné avec des frappadingues façon Gang Green ou Minor Threat.
Guitares rageuse, parfois fuzzy, production crasse 100% old school qui pue bon l'urgence et la frénésie : imaginons Les Thugs dans leurs moments les plus rageurs à la façon de l'époque "Electric Troubles" doublé d'une capacité à tout déménager avec du riff imparable et un chant keupon du meilleur effet.
En prime, les Parisiens nous offrent par moments un petit hommage (volontaire ?) à Motörhead avec un riff sur "Deathride" rappelant de très près celui d'"Overkill". Aucun titre n'atteint la barre des trois minutes : on va directement à l'essentiel, on essaie de faire mal dès le premier coup et, surtout, on y parvient à chaque fois.
Bref, quand Paris rencontre Detroit, ça fait mal, très mal ! Cet "Hungry for Action" en est une très belle preuve…
Plus que recommandé pour toute personne ayant un peu de folie entre les oreilles.
Tracklist :
1. It's About Time ! (2:44)
2. The Way You Play the Game (2:03)
3. Rip It Up (1:44)
4. No Escape (2:26)
5. Obey / Annihilate (2:41)
6. Deathride (2:37)
7. Confusion Blues (2:43)
8. No Motivation (1:22)
9. Monster Hero (2:52)
10. Ex (1:45)
11. I'll Be Around (1:51)
12. Iron Lizards (2:36)
Retour en début de page