Le 31 janvier 2021 posté par Metalfreak
Line-up sur cet Album
Jeff Scott Soto : Chant
Erik Martensson : Guitares, Claviers, Choeurs
Robert Säll : Claviers, Guitares
Magnus Henriksson : Guitares
Andreas Passmark : Basse
Robban Bäck : Batterie
Style:
Hard FM

Date de sortie:
22 janvier 2021

Label:
Frontiers Records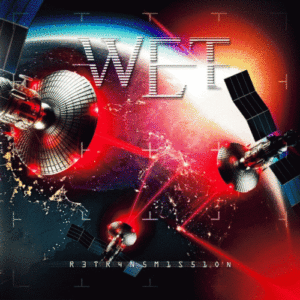 Note du SoilChroniqueur (Metalfreak) : 10/10
Et de quatre !
On sait, Chris, quatre comme quatre albums.
On la connait, cette introduction…
Non, comme quatre excellents albums !
Le projet formé entre Robert Såll (de Work Of Art pour le W), Erik Mårtensson (de Eclipse pour le E) et Jeff Scott Soto (Talisman, pour le T), sur lequel se greffent le guitariste Magnus Henriksson (Eclipse), le bassiste Andreas Passmark (Royal Hunt, Narnia, Harmony) et le batteur Robban Bäck (ex.Eclipse) en est effectivement à sa quatrième offrande et, après écoutes successives et attentives, on se dit qu'il pourrait faire date dans la carrière du groupe tant cet album frôle la perfection à beaucoup de niveaux !
Déjà, les nostalgiques du hard FM – comme on aimait à l'appeler – des années 80 vont se régaler en entendant ces guitares mélodieuses aux riffs impeccables et aux soli monstrueux, ces nappes de claviers omniprésentes mais impalpables et ce chant, mais quell chant, toujours aussi chaud d'un Jeff Scott Soto toujours au top malgré ses 55 balais au compteur !
Et c'est ainsi qu'on se retrouve avec onze titres d'un hard rock à l'énergie (positive) incroyable qui fout une patate d'enfer : onze titres ? Onze hits potentiels : W.E.T. arrive à retransmettre (d'où Retransmission ?) tout ce que le genre a proposé de mieux entre 1985 et 1990, la production – énorme – moderne en plus.
Imaginez "The final Countdown" (Europe), "In Rock we Trust » (Y&T), "Last of the Runaway" (Giant), "Sahara" (House Of Lords) ou "Too Hot to Sleep" (Survivor), qui bénéficiaient pourtant déjà d'un gros son à l'époque, étant produit de la même façon…
Clairement, ça fait rêver !
Et en effet, W.E.T. cumule les titres accrocheurs, allant du hard rock nerveux aux refrains implacables (les addicifs "Big Boys don't Cry", "The Moment of Truth", "The Call of the Wild", le sautillant "Beautiful Game", "Coming Home", "You Better Believe it", "One Final Kiss") aux titres plus calmes ("Got to be About Love", "How do I know ?"), en passant par du rock bien racé qui pourrait devenir un hymne pour le groupe ("How far to Babylon") ou la somptueuse ballade ("What are you Waiting for"), et chacun d'entre eux a pour dénominateur commun d'être magnifié par la technique sans faille de musiciens hors normes…
Sans doute l'album le plus ambitieux de la formation, Retransmission se doit d'avoir le succès qu'il mérite : on en vient à se dire que sic et album, fût-il sorti à la fin des années 80, aurait explosé toutes les ventes tant on retrouve ce qui a fait le succès des albums cités plus haut !
Et avec de tels musiciens et surtout un chanteur qui arrive à faire l'exploit de faire passer les émotions qu'il veut rien que la façon dont il module sa voix, on en arrive à vivre un moment magique rien qu'en écoutant à l'envi ces 41 minutes de pur bonheur musical !
Et autant être franc, ça faisait longtemps qu'un album du genre ne m'avait autant régalé, au point de devenir un des mes albums de chevet !
Indispensable, qu'on vous dit !
Tracklist :
1. Big Boys Don't Cry (3:04)
2. The Moment of Truth (4:33)
3. The Call of the Wild (3:49)
4. Got to Be About Love (3:30)
5. Beautiful Game (3:48)
6. How Far to Babylon (4:25)
7. Coming Home (3:04)
8. What Are You Waiting For (4:58)
9. You Better Believe It (3:03)
10. How Do I Know (4:13)
11. One Final Kiss (3:12)
Retour en début de page