Le 16 janvier 2020 posté par Metalfreak
Line-up sur cet Album

Scott Walker : Batterie Adam Roethlisberger : Chant, Basse Kyle Rasmussen : Chant, Guitare
Style:
Death metal

Date de sortie:
06 septembre 2019

Label:
Century Media Records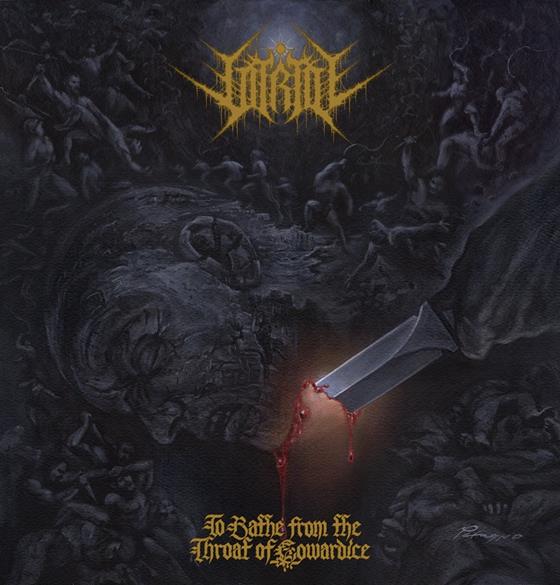 Note du SoilChroniqueur (Arno) : 7,5/10
Je dois dire que j'ai été plutôt surpris de voir que Vitriol était chez Century Media, ayant l'image, apparemment fausse, d'un label ne signant plus que des gros trucs ou du commercial mais voilà bien un reproche que je ne pourrais pas faire à ce premier album des Américains : « To Bathe from the Throat of Cowardice ». Parce que c'est vraiment violent, même pour du Death, et que je vois mal la formation faire la une des magasines.
En tout cas, si j'ai bien compris, le groupe existait déjà sous le nom de Those Who Lie Beneath dont le seul et unique album est sorti en 2009. Cela expliquerait sans doute la maturité de Vitriol qui allie, sans grande subtilité mais avec une terrible efficacité, technique et violence à la manière d'un Hate Eternal qui est sans doute la référence la plus évidente. Cela pose tout de même le niveau du trio.
Pour le dire franchement, ça joue la mort et chaque titre colle des beignes. Cela ressemble fort à la naissance d'un grand espoir de la scène Death Métal.
Tracklist :
01 : The Parting of a Neck
02 : Crowned in Retaliation
03 : Legacy of Contempt
04 : I Drown Nightly
05 : The Rope Calls You Brother
06 : A Gentle Gift
07 : Violence, a Worthy Truth
08 : Victim
09 : Hive Lungs
10 : Pain Will Define Their Death
Retour en début de page