Le 27 janvier 2019 posté par Bloodybarbie
Line-up sur cet Album
Johnny Helund : basse, chant
Anders Schultz : batterie
Fredrik Folkare : guitare
Tomas Olsson : guitare
Style:
Death Métal

Date de sortie:
26 Octobre 2018

Label:
Napalm Records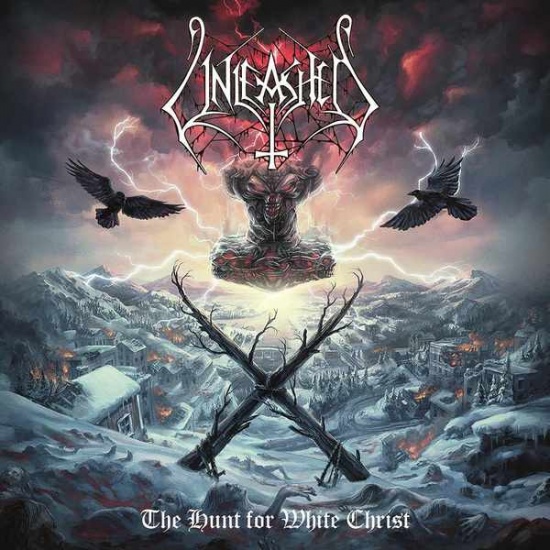 Note du SoilChroniqueur (Arno) : 6,5/10
Être et avoir été. Je me demande quelle est aujourd'hui la côte de popularité d'Unleashed car, à chaque fois que j'en parle avec des potes ayant un peu de bouteille (à tous les sens du terme), la remarque est souvent la même : ça ne vaut plus grand-chose.
C'est vrai que pour une formation qui a dominé la scène au début des années 90 avec trois albums magnifiques (Where no Life dwells ; Shadows in the Deep ; Across the open Sea), c'est compliqué de rester le meilleur. Et pourtant, les voilà toujours vaillants avec The Hunt for white Christ, treizième album toujours dédié au monde nordique et, plus ou moins directement, en lutte contre le christianisme (« They rape the Land » ou tout simplement le logo).
Bon, pour ma part, ça fait un bail que j'ai décroché ; de toute façon j'ai toujours préféré Dismember et Entombed au délire Viking. Et ces onze titres ne changeront rien à l'affaire : les mecs jouent leur truc à fond et ils ont le savoir-faire du vieux briscard, avec en plus la production typique qui renforce le côté old school mais j'ai vraiment du mal à m'enthousiasmer pour ce nouvel album très conventionnel qui n'apporte rien de plus à une discographie finalement principalement faite de disques moyens. Ne m'insultez pas, je sais tout ce que cette formation a apporté, cela n'empêche pas d'essayer de rester lucide.
Tracklist :
01. Lead us into War
02. You will fall
03. Stand your Ground
04. Gram
05. Terror Christ
06. They rape the Land
07. The City of Jorsala shall fall
08. The Hunt for white Christ
09. Vidaurgelmthul
10. By the Western Wall
11. Open to all the World
Retour en début de page