Le 22 mai 2023 posté par Metalfreak
Line-up sur cet Album
Björn Thorup - Guitares, Basse, Choeurs
Niklas Mattisson – Guitares, Basse, Choeurs
Lasse Hietala – Chant
Session : Martin Karlsson – Batterie
Style:
Heavy / Speed Metal

Date de sortie:
22 mai 2023

Label:
Lake Of Fire Productions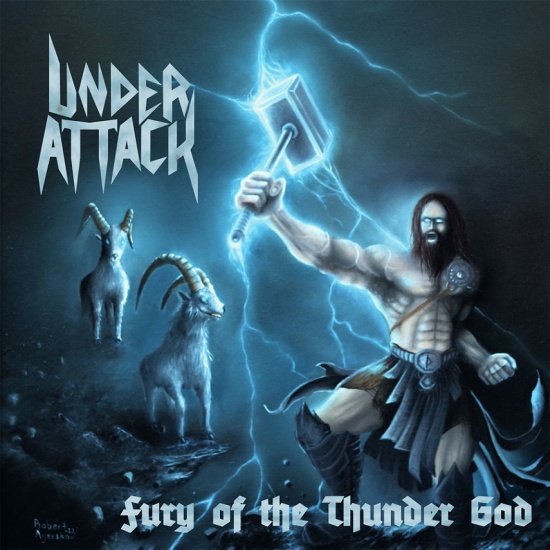 Note du SoilChroniqueur (Metalfreak) : 8/10
"His hand takes grip on the back of your neck
Frozen with fear you know you're under attack" (Exciter, "Under attack", "Heavy metal maniac", 1983)
Under Attack, ce n'est plus qu'une chanson d'Exciter sur leur cultissime premier album de 1983, mais aussi le nom d'un groupe suédois de Heavy / Speed Metal depuis 2012.
Formé initialement par quelques gaillards issus du Metal extrême, entre autres Björn Thorup (Nidhöggr, ex-Pagan Rites, ex-The Ancients Rebirth, ex-Fear the Future, ex-Styggelse, ex-Karneywar), Gustaf Sundin (Snakeskin Angels, ex-Styggelse) et Mattias Johansson (Goat Skull, Karnivore, ex-Fear the Future, ex-Karneywar, ex-El Camino, ex-In Pain, ex-Nidhöggr), Under Attack avait pour mission de rendre hommage aux racines du Heavy, Speed et Thrash Metal.
Deux premières demos sortiront en 2014 ("The Aftermath" et "High on Metal"), qui seront toutes deux ressorties sur une compilation la même année. S'ensuivront encore deux demos : "Wither in Darkness" (2014 encore) et "Where The Axeman Laughs" (2019), les trois titres de cette dernière se trouvant sur cet album qui nous intéresse aujourd'hui.
On l'aura compris : ce "Fury of the Thunder God" est le premier full length du désormais trio.
"Désormais", parce que le line up du groupe n'aura pas été un long Styx tranquille : du line-up originel, seul reste Björn Thorup, guitariste des blackeux de Nidhöggr, aux côtés de qui évoluent l'ex-Dragonthrone Niklas Mattison et le chanteur Lasse Hietala. Pour l'album, c'est le bassiste de Lechery Martin Karlsson qui s'occupe de… la batterie !
Bien sur, avec un nom pareil, les influences Exciter sont perceptibles, mais pas que : on pense régulièrement à Accept, Judas Priest, Thor, Manowar et à toute une tripotée de formations légendaires de la NWOBHM qui n'hésitaient pas à coller du tempo rapide dans leurs compositions.
Old school jusqu'au bout des manches de guitares, et de façon tout ce qu'il y a de plus assumée, la musique d'Under Attack se veut être un parfait revival pour qui aime les sonorités de la première moitié des années 80.
Cavalcades de riffs, solos bien foutus, tempos entre le Heavy bien lourd et le Speed Metal bien fluide, chant posé un rien nasillard, titres parfaitement calibrés pour ne conserver que l'essentiel (dix compositions pour quarante minutes) : Under Attack ne nous épargne rien pour nous coller un bon petit délire bien vintage, tout ce qu'il y a de plus traditionnel, pour peu qu'on ait un peu de folie entre les oreilles.
Les plus nostalgiques adhèreront, indéniablement !
"You're under attack
Under attack
Under attack
Under attack"
Tracklist :
1. Torture's Too Kind (3:57)
2. Where the Axeman Laughs (4:16)
3. Burning Metal (3:15)
4. Dawn of Fire (4:20)
5. The Night of the Sniper (3:56)
6. Fury of the Thunder God (5:01)
7. Meatgrinder (3:45)
8. Stabbed with a Knife (3:29)
9. The Beast Shall Rise (3:59)
10. As Abaddon Strike (3:03)
Retour en début de page