Le 23 mars 2020 posté par Bloodybarbie
Line-up sur cet Album

M.T. - guitare, vocals M.S. - Batterie A.T. - basse
Style:
Black Metal

Date de sortie:
7 février 2020

Label:
AOP Records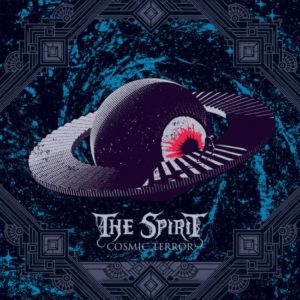 Note de la Soilchroniqueuse (Bloodybarbie) : 8/10
The Spirit, ce jeune groupe allemand me donne des frissons à chaque fois que je réécoute son black metal si sombre, si reposant, si mélodique, si sublime et extrême !
Certes, on peut dire qu'il y a beaucoup de similitudes avec d'autres groupes grandioses comme Horna, Windir, Mgla, Himinbjorg,… Je ne cherche pas dans un tel album le jeu des 7 différences (ou plus), ce qui importe c'est qu'on y trouve tout pour qu'un fan de black se délecte.
Ce nouvel album Cosmic Terror (ce que nous vivons actuellement d'ailleurs) multiplie les tremolos comme le coronavirus, les passages mélodiques, sans trop abuser sur les blasts et la double pédale, juste ce qu'il faut là où il faut pour aérer ce metal noir et nos oreilles. La locution du chant black est aussi limpide que l'air sans pollution humaine, on y distingue et comprend chaque mot, c'est si rare dans ce sous-genre de metal ! J'ai d'ailleurs préféré ce disque à son prédécesseur Sounds from the Vortex (2017).
Mes coups de cœur : « The Path Of Solitude », « Pillars of Doom » et le plus grandiose de tous, « Cosmic Terror ».
Que votre âme repose en paix le temps de l'écoute de ce petit bijou pour 'une petite mort.
Tracklist :
01. Serpent as Time Reveals
02. Strive For Salvation
03. Repugnant Human Scum
04. The Path of Solitude
05. Pillars of Doom
06. The Wide Emptiness
07. Cosmic Terror
 https://www.facebook.com/thespiritband/
Retour en début de page