Le 21 juin 2022 posté par Metalfreak
Line-up sur cet Album
David Joy - Basse, Chant
Ted MacInnes – Batterie, Chant
Joe Martignetti - Guitares, Chant
Bruno Neves – Chant
Style:
Metal Progressif

Date de sortie:
11 mars 2022

Label:
Fastball Music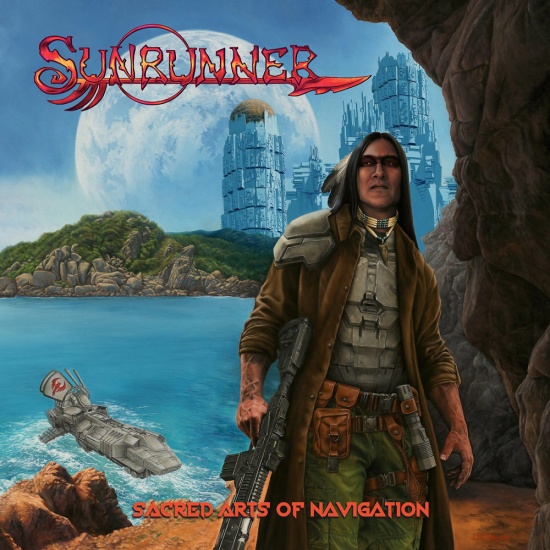 Note du SoilChroniqueur (Metalfreak) : 8/10
Jusque-là, la seule fois où j'ai vu des Indiens et des extra-terrestres ensemble, c'était dans le film "Cowboys et envahisseurs". Maintenant, on a l'artwork, très réussi, du nouvel album des progueux américains de Sunrunner.
Formé en 2008, le quatuor de Portland a déjà sorti quatre albums avant ce "Sacred Arts of Navigation" avec "Eyes of the Master" (2011), "Time in Stone" (2013), "Heliodromus" (2015) et "Ancient Arts of Survival" (2018) (dont l'artwork prenait déjà le thème de ce nouvel album), auxquels on peut rajouter un live et trois EP : "Sunrunner" (2011), "Follow the Path" (2013) et "Inner Vision" (2019).
A limage de son artwork qui mélange les époques, ce nouvel album de Sunrunner mélange allègrement les époques musicales du rock et du metal mais aussi les genres.
On se retrouve sans surprises avec du progressif (surtout), du (hard) rock, du heavy metal et du speed metal. On se demande si le fait de surfer sur plusieurs univers différents peut poser problème pour ne donner qu'un patchwork indigeste mais il n'en est rien !
Non, Sunrunner nous propose un album extrêmement riche, parfois difficile d'accès lorsqu'il explore quelques méandres labyrinthiques mais, au final, les chattes retrouveront facilement leurs petits.
On retrouve bien souvent des sonorités progressives à chercher dans les seventies / eighties au milieu de brûlots bien speed à la Judas Priest ou Iron Maiden, voire même Helloween ou Rage.
Autant dire qu'un tel mélange des genres ne passe pas inaperçu, surtout lorsque la qualité est au rendez-vous.
Parce qu'en plus Sunrunner sait se montrer accrocheur !
Ce ne sont pas les énervés "Promise of Gold", "Invisible Demon of Ideology", le speed metal "Obstacle Illusion", le très Maidenien avec ses guitares doublées "No Mess, No Magic" ou surtout le fédérateur "Where is My Home ?" qui nous contrediront.
Et le quatuor aime à varier les plaisirs, au point qu'on se retrouve à se délecter d'un instrumental folkisant absolument divin ("Acadia Morning Ride") ou d'une somptueuse ballade proche d'un Eagles façon "Hotel California" avec "Last Night in Tulum".
Et, cerise sur le gâteau, un long et épique "Navigating the Apocalypse" qui recèle à lui tout seul tout ce que Sunrunner fait de mieux.
Clairement, ce "Sacred Arts of Navigation" est passionnant de bout en bout, extrêmement riche au point de devoir l'écouter plusieurs fois d'affilée pour en extraire toutes les subtilités.
Une vraie belle surprise !
Tracklist :
1. The Launch (1:04)
2. Promise of Gold (5:40)
3. Faraway Worlds (5:26)
4. Invisible Demon of Ideology (3:52)
5. Where Is My Home (5:28)
6. Acadia Morning Ride (3:58)
7. Obstacle Illusion (4:21)
8. Dragonship (5:31)
9. Last Night in Tulum (4:36)
10. No Mess, No Magic (4:15)
11. Navigating the Apocalypse (12:23)
Bandcamp
Facebook
Site officiel
ReverbNation
Spotify
YouTube
Retour en début de page