Le 12 mars 2019 posté par Bloodybarbie
Line-up sur cet Album
Jebuz Mota - Basse
Richi DeVoll - Batterie
Raúl Domínguez - Guitares
Alberto DeMartini - Guitares
Jahaziel Quiroga - Chant
Style:
Heavy Metal

Date de sortie:
27 Février 2019

Label:
Autoproduction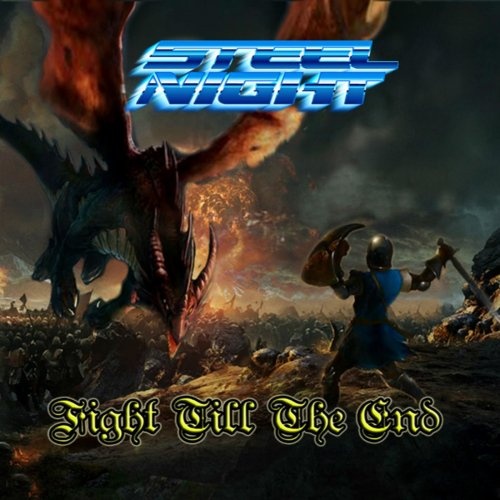 Note du SoilChroniqueur (Metalfreak) : 8/10
Clairement, le temps s'est arrêté en 1985 au Mexique et surtout chez les membres de Steel Night. Déjà, un logo et un artwork qu'on n'osait plus faire depuis plus de trente ans et une attaque des compositions qu'on retrouve dans les grandes heures du Heavy Metal et de la NWoBHM en, plein milieu de la discographie de nos parents !
Bref, les quadras et quinquas vont y aller de leur petite nostalgie et faire écouter cet album à leur rejeton en leur disant que c'était le bon temps, et qu'ils ne leur donneront même pas tort !
Alors en effet, Steel Night, qui se réclame de groupes divers comme Iron Maiden, Judas Priest, Accept, Helloween, Hammerfall, Stratovarius, Grim Reaper, Virtue, Ratt, Scorpions, Air Raid, Hitten, Tokyo Blade, Virtue ou Tank nous rendent, à l'instar des Skull Fist, Enforcer, Cauldron, Striker, ou autre Night Demon, un véritable revival en guise de voyage dans le temps pour un bond de trente à trente-cinq années en arrière ! Et Dieu que c'est bon !
Entre Heavy Metal racé et Speed Metal galopant, la musique du quintet de Mexico nous offre un véritable hommage à ces grands anciens et on peut énumérer une foultitude de passages rappelant de bons moments du Heavy Metal.
Et d'entrée, avec le long "We are Metal", on se prend à se remémorer un certain "Wild Swan" des vétérans Magnum (sur Wings of Heaven, 1988), que ce soit lors du riff principal ou lors du refrain, le tout avec un chant proche de celui de Bruce Dickinson.
Et le riff introductif du speed "Run for Your life" qui fait penser à celui de "Take off your Hands" des speed metalleux allemands de S.D.I. sur Satan's Defloration incorporated (1986), l'intro de "Spell Witch" qui rappelle "Lions Roar", celle de l'album Master of Disguise (1985) de Savage Grace, "Red Alert" qui aurait pu être composé par Iron Maiden, à l'instar d'un "Wings of Steel" qui pourrait bien être leur "Aces high" si on se réfère encore une fois à l'intro…
Chaque titre est un prétexte à se remémorer des bons vieux morceaux qui font partie des classiques du Heavy Metal, mais ne pas croire que Steel Night se contente de nous fournir de vulgaire copier-coller d'un passé pas si révolu que ça ! Non, ils se permettent le luxe d'avoir leur propre identité avec des compositions bien foutues et une maîtrise technique qui les font se démarquer de bien d'autres groupes émergents du même genre !
Bref, on se régale, que ce soit lors des rapides "Run for your Life", "Heavy Metal Storm", "You lost my Heart", "Wings of Steel" ou des plus heavy – voire plus épiques – "We are Metal", "Red Alert" ou "Spell Witch" qui sont autant de prétextes au headbanging et au tapage de pied effréné !
Un pur album de Heavy Metal, qu'on vous dit !
Tracklist :
1. We are Metal (7:17)
2. Run for your Life (4:04)
3. Spell Witch (4:01)
4. Red Alert (5:10)
5. Heavy Metal Storm (4:28)
6. Fight till the End (3:40)
7. You lost my Heart (5:31)
8. Wings of Steel (4:30)
9. Made of Steel (live) (5:36)
Retour en début de page