Le 21 juillet 2021 posté par Metalfreak
Line-up sur cet Album
Gian : Chant, Guitares
Flavio : Guitares
Gio : Batterie
C. M. : Basse
Style:
Death Metal

Date de sortie:
28 mai 2021

Label:
Lavadome Productions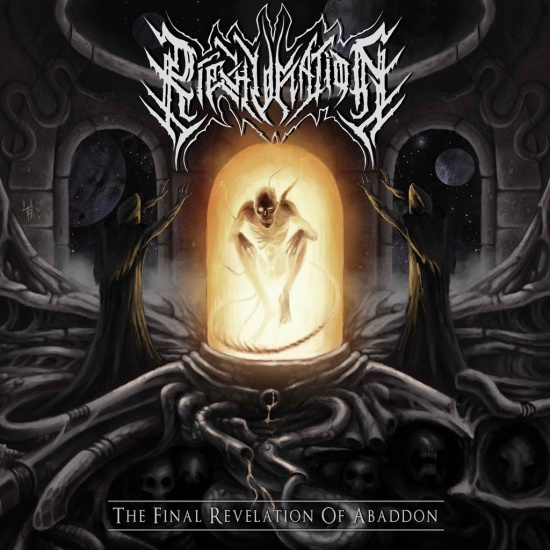 Note du SoilChroniqueur (Arno) : 7/10
Vue le nombre de formations qui fleurissent et sortent des premiers albums, la musique metal n'est pas prête de disparaître. Aujourd'hui, direction l'Italie avec les death métalos de Riexhumation et leur « The Final Revelation of Abaddon« .
A la frontière d'un brutal death rapide comparable à du sous Vital Remains / Deicide et des éléments plus classiques de la scène actuelle comme les bons gros ralentissements (je n'ai pas parlé de slam death hein), le quatuor a de beaux atouts en main pour faire son trou.
En effet, outre une technique irréprochable et jamais envahissante, la formation a un certain talent pour composer des titres accrocheurs qui varient intelligemment les tempos, entre grosses rythmiques pesantes et accélérations façon Fiat sous amphet (ce n'est pas encore une Ferrari, il ne faut pas non plus exagérer).
Bref, si vous n'avez toujours pas eu votre dose de death metal ce mois-ci, « The Final Revelation of Abaddon » pourrait faire un complément alimentaire intéressant : copieux, pas écœurant mais qui gagnerait à être un peu plus relevé la fois suivante.
Tracklist :
1. Intro (02:27)
2. Inbreeding a Final Form in the Flesh (05:31)
3. Take the Throne of Enlil (03:23)
4. Conflagration Mantra (03:36)
5. Manifestation of the Horned-Head Presence (04:56)
6. Ascension XIV (05:10)
7. The Vectorcvlt (04:42)
8. Embrace Nihility (02:19)
9. Triumph of Perfect Darkness (07:06)
Retour en début de page