Le 30 novembre 2022 posté par Metalfreak
Line-up sur cet Album

Revolting Rogga – Guitares, Chant / Grotesque Tobias – Basse / Mutated Martin – Batterie.
Style:
Death metal

Date de sortie:
29 novembre 2022

Label:
Xtreem Music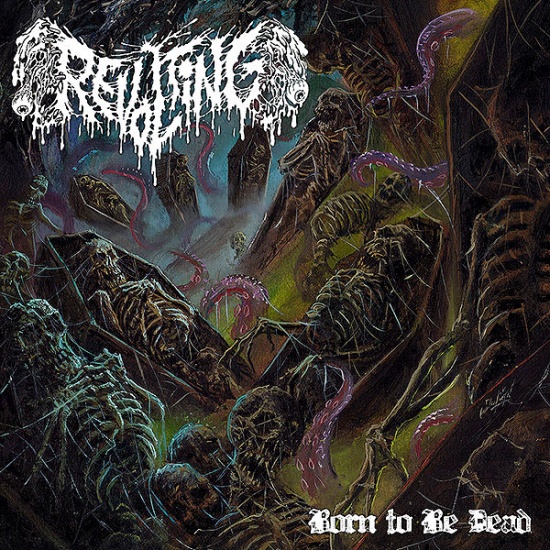 Note du SoilChroniqueur (Metalfreak) : 8/10
Un jour, il faudra que je prenne quelques heures pour établir la liste, et la classer dans l'ordre chronologique histoire de me compliquer la tâche, de tous les albums de Death Metal sur lesquels apparait Rogga Johansson (y compris en tant que guest) depuis qu'il a trouvé le chemin de son premier studio d'enregistrement. Ca risque de m'occuper un sacré paquet de temps !
C'est que le Roger Suédois, il a sûrement sa propre chambre avec sa propre machine à café dans chacun des studios où il enregistre, tant il y passe des semaines entières.
C'est bien simple, il est au Death Metal ce que des Morgan Freeman ou Samuel L. Jackson sont au cinéma : une personne qu'on voit partout !
Et qui dit Rogga "Revolting" Johansson dit forcément Death Metal old school, sous sa forme la plus primitive, avec son lot de guitares sous accordées, de soli mélodiques et d'alternances de titres rapides et plus Heavy. Des titres courts, efficaces, avec un chant d'outre-tombe tout ce qu'il y a de plus classique…
Rien de neuf sous le soleil suédois ? On peut le dire ainsi : les formations qui se réclament des Entombed, Unleashed, Grave ou autre Dismember ne font pas dans la révolution du genre et ne proposent pas beaucoup d'autres surprises sinon celle de faire des titres toujours efficaces, basés sur un schéma inaltérable.
Un nouvel album d'un genre convenu, qui ne sort pas des sentiers battus, et bien entendu d'une homogénéité qui pourrait bien finir par lasser à un moment donné. Mais ça, ce n'est pas encore pour tout de suite !
Malgré tout, ce Born To Be Dead, au demeurant excellent, est à classer entre le précédent et le suivant… ni plus ni moins !
Tracklist :
1. Souls of Sorrow (3:37)
2. Born for Butchery (3:03)
3. Master of the End (3:40)
4. The Suffering (3:02)
5. Flesh on the Razor Wire (2:57)
6. Tentacles Come Crawling (4:25)
7. A Trail of Human Blood (3:04)
8. Rotting in the Depths (3:06)
9. The Knowing (3:02)
10. Born to Be Dead (Instrumental) (1:58)
BandCamp  Facebook  Instagram  Myspace  ReverbNation  Spotify
Chronique "Monolith of Madness"
Chronique "The Shadow at the World's End"
Retour en début de page