Le 19 juin 2020 posté par Metalfreak
Line-up sur cet Album

Marco Mitraja : Guitares, Chant Alessio Alessandretti : Guitares Alessio Stazi : Batterie Emanuele Evangelista : Basse
Style:
Thrash Metal

Date de sortie:
8 mai 2020

Label:
Punishment 18 Records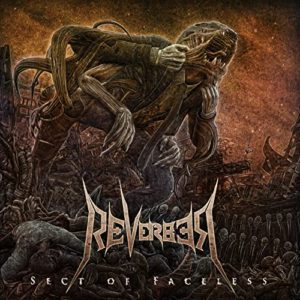 Note du SoilChroniqueur (Metalfreak) : 8,5/10
Troisième album pour les Romains de Reverber après "Serial Metal Killer" (2009) et "Immortals" (2016), toujours bien ancrés dans un Thrash Metal résolument old school et rafraîchissant au possible.
Dix titres, presque cinquante minutes de musique : les Italiens nous offrent des compositions percutantes aux passages instrumentaux nombreux et efficaces. Les guitaristes sont incisifs et ont parfaitement appris les leçons du petit thrasher illustré, empruntant leurs sons tant à la scène de la Bay Area qu'à celle made in Germany chère à Kreator !
Avec un artwork réalisé à Headsplit Design des mains de Remy Cuveillier (Andralls, Carcariass, Whitechapel, Mastic Scum, Cryptopsy, Mumakil et tout récemment "The Fates" de Witches) et un enregistrement au 16th Cellar Studios par Stefano Morabito (Fleshgod Apocalypse, Nanowar of Steel, Hideous Divinity, Hour of Penance, Decrepit Birth, Razgate, Handful of Hate…), on sent que Reverber s'est donné les moyens de nous offrir une petite bombe en matière de Thrash Metal, tant visuellement qu'auditivement !
On ne va pas se mentir : Reverber se démarque de bon nombre de groupes de Thrash Metal de par sa capacité à énormément varier sa musique : on se prend du tempo ultra rapide ("Gods of Illusions", "Channel 666", "Black Plague") rappelant des sauvageries propres à Kreator, des mid tempo ravageurs qui n'hésitent pas à durcir le ton avec des changements de rythmes soudains ("Sect of Faceless", "Arachnophobia"), des titres plus heavy ("My Name is Destruction (Alboin the Conqueror)", "Vlad") ou des bombes impitoyablement thrash ("Nightmareland"). On a même droit à l'alternance balade acoustique/thrash metal alambiqué ("Wood of Suicide"), qui met un peu de relief à un album déjà riche.
En prime, une petite reprise d' »Angel Witch" du groupe du même nom, réappropriée par le groupe à la sauce thrash pour en faire un petit brûlot bien méchant !
Et surtout, surtout, Reverber nous gratifie de parties de guitares à la technique sans faille !
Un bel album de Thrash Metal qu'on n'a pas vu venir et qui va mettre à mal bien des cervicales de thrashers pourtant avertis !
Fortement recommandé…
Tracklist :
1. Gods of Illusion (4:09)
2. Sect of Faceless (5:58)
3. My Name is Destruction (Alboin the Conqueror) (5:00)
4. Channel 666 (3:49)
5. Nightmareland (4:58)
6. Wood of Suicides (6:00)
7. Black Plague (5:12)
8. Arachnophobia (5:48)
9. Vlad (5:16)
10. Angel Witch (reprise Angel Witch) (3:08)
Bandcamp
Bandistown
Facebook
Instagram
Myspace
ReverbNation
Soundcloud
Spotify
Twitter
YouTube
Retour en début de page