Le 8 août 2022 posté par Metalfreak
Line-up sur cet Album
Kenny – Guitare
B.Nekroskull – Guitare, chant
R.NunImpaler – Basse
AV - Batterie
Style:
Death Metal

Date de sortie:
13 mai 2022

Label:
Burning Coffin Records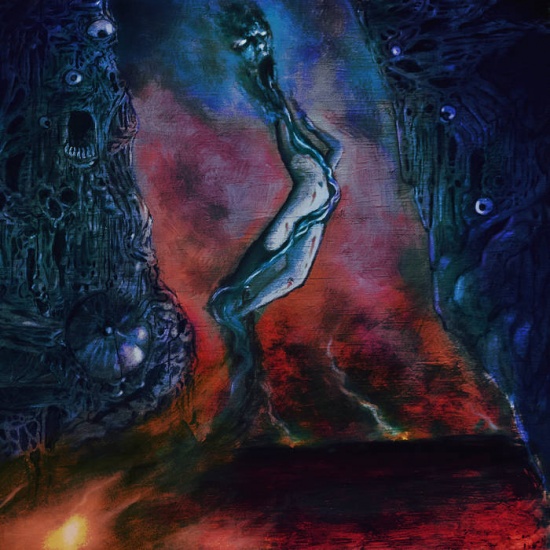 Note du SoilChroniqueur (Antirouille) : 7,5/10
Originaire du Chili et actif depuis 2011, Putrid Evocation publie 4 démos, un EP, un album et un live. Il sort via Burning Coffin Records son second EP, Eternal Gloom: A Void of Agony and Repugnancy en aout 2021, signé et réédité cette mi mai par Dawnbreed Records.
Putrid Evocation pratique un death metal classique qui ne t'apprendra rien de nouveau mais qui a le mérite d'être bien joué, même si le son assez pourri donne l'impression que l'EP a été enregistré en une seule prise au fond d'un garage. Ce son moisi s'éclaircit cependant au fur et à mesure que les titres défilent, surtout sur les parties doom. Heureusement, car la boue d'où peine à sortir les instruments nous aurait presque fait stopper l'écoute.
Car oui, à des mélodies tortueuses et à des riffs épuisants répétés à l'infini, se succèdent des passages death doom relativement bien faits. Le temps s'arête sur ces parties d'une lenteur maladive puis reprend sur des accélérations qui deviennent, du coup, punitives. Ces successions de motifs lents et bien vénères sauvent cet EP qui serait tombé illico dans l'oubli.
Putrid Evocation intercale entre ses titres au nom interminable des interludes inquiétants qui te tordent le bide d'angoisse.
Putrid Evocation ne va pas révolutionner le genre avec Eternal Gloom : A Void of Agony and Repugnancy pour cette fois-ci. Quelques améliorations dans le mixage et il pourrait devenir clairement un groupe à suivre.
Tracklist :
1 Evokers of the Obscurity, Reveal the Course of True Death (05:22)
2 Spreading the Impure Seed of Antichrist Ejaculation upon Your Dismal Skeleton (Interlude) (01:14)
3 Faceless Shadows (05:02)
4 Cryptical Rites of Rotting Flesh (05:51)
5 Surrounded by Emaning Black Mist from the Depths of a Derelict Grave (Interlude) (02:16)
6 Rising Spirit, Beyond the Corpse (06:03
Retour en début de page