Le 29 mai 2023 posté par Metalfreak
Line-up sur cet Album
Trek Fitzgerald - Batterie
Steve White - Guitares, Chant
Zack O'Rear - Basse
Guest : Nayden Natera – Chant sur 8
Style:
Black / Death / Thrash Metal

Date de sortie:
08 mars 2023

Label:
Autoproduction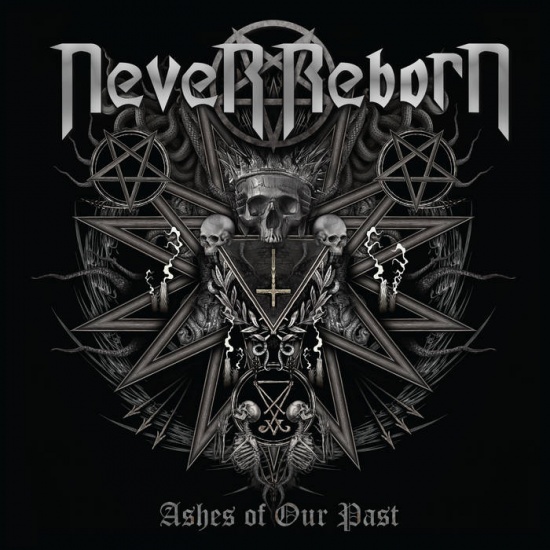 Note du SoilChroniqueur (M.L.A.M.) : 6,5/10
Le trio nous vient d'Arizona et, après un premier EP What Dearkness Brings qui remonte à 2020, le groupe nous offre ici son véritable premier album Ashes of Our Past.
Après une intro plutôt sympa, place au titre « Never Reborn » qui démarre sur un riff bien doomisant. Puis le groupe enchaîne dans un style qu'on retrouvait à l'époque sur les albums de Celtic Frost.
Le titre suivant, « Existence Denied », est assez Metallica période And Justice For All dans le style proposé, et seule la voix reste extrême, ici, avec un gros côté Black Metal.
« Ashes of our Past » ou « Haunted Eternally » sont un poil plus extrême, mais attention, ça reste assez lourd musicalement parlant : par moments, on a l'impression d'écouter un album de Heavy Metal burné par la voix mais, question tempo, ce n'est jamais très rapide.
Les autres titres restent dans la même veine : ne vous attendez pas à trouver ici de grosses accélérations et des parties blastées à mort, car ce n'est clairement pas dans les influences majeures deSteve White, le principal compositeur de groupe.
Voici donc un album qui reste très correct sur les dix titres proposés ici, avec une production très propre. Enfin, la pochette propose, quant à elle, un motif plutôt sympa à regarder.
Par contre aucun titre ne sort vraiment du lot, et ça aurait pu être chouette d'avoir un ou deux morceaux qu'on arrive à mémoriser.
Il serait bien que le groupe rende sa musique plus agressive et violente à l'avenir, car on a plus l'impression d'écouter un album de Heavy Metal avec une voix typée extrême, plus qu'un véritable album de Metal Extreme, au sens propre du terme.
Le trio a des capacités et sera capable, j'en suis sûr, de nous proposer du lourd pour la suite.
Tracklist :
1. Storms End (0:44)
2. Never Reborn (5:49)
3. Existence Denied (6:16)
4. Ashes of Our Past (4:16)
5. Haunted Eternally (6:41)
6. Deathmarch Armageddon (5:12)
7. Fallen One (5:43)
8. Children of Fire (5:52)
9. False Prophecies (2:56)
10. Requiem (World of Hurt) (4:44)
Bandcamp
Deezer
Facebook
Site officiel
Instagram
ReverbNation
SoundCloud
Spotify
Twitter
YouTube
Music Amazon
Music Apple
Retour en début de page