Le 28 mai 2021 posté par Metalfreak
Line-up sur cet Album
Andrea "Mixy" Finotti : Chant
Roberto "Micini" Quaglia : Guitares
Roberto "Rock 'n' Rob" Massasso : Basse
Alberto "Mauser" Accomasso : Guitares
Marco "Mark" Morrone : Batterie
Style:
Speed Metal

Date de sortie:
28 mai 2021

Label:
Pure Steel Records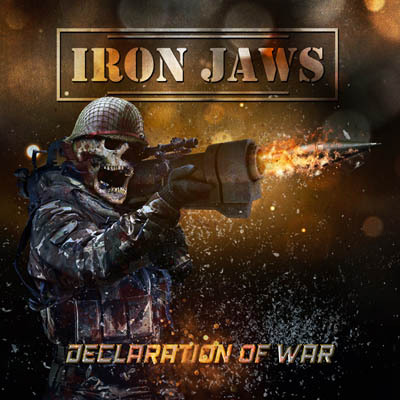 Note du SoilChroniqueur (Metalfreak) : 8/10
Si on recherche le chaînon manquant entre Exciter, Overkill et Agent Steel, c'est surement du côté du Piémont (Asti) qu'on risque de le trouver tant la musique d'Iron Jaws se fond dans un speed metal à la fois des plus passéistes et des plus fluides.
Troisième album pour le quintet formé en 2006 après les déjà excellents "Louder is not enough" (2010) et "Guilty of ignorance" (2013) qui, à défaut d'être inoubliables, avaient la qualité d'être déjà bien suffisamment percutants pour séduire les fans de heavy metal rapide qui n'a pas la prétention de franchir les frontières du thrash.
Et en ça, Iron Jaws semble avoir décidé de perpétuer cette bonne vieille habitude !
En douze titres pour quarante sept minutes, on se prend une bonne brassée de riffs qui faisaient fureur dans les mid eighties et cette déclaration de guerre aurait très bien pu avoir sa place entre des "Taking over", "Heavy metal maniac", "Skeptics apocalypse" ou autre "Tales of terror" tant le côté rafraichissant de l'ensemble fleure bon cette époque bénie.
Si on pouvait faire un reproche à cet album, c'est peut être un côté très homogène : chaque titre semble être attaqué de la même façon avec du riff puissant sur une rythmique rapide, avec un chant rageur qui n'exclut pas quelques cris suraigus lors des refrains.
Et on retiendra aussi que, sur ce troisième album, Iron Jaws se fend d'une troisième reprise : après "Violence and force" (Exciter) sur le premier album, puis "Metal merchants" (Hallow's Eve) sur le deuxième, on a droit à une revisite explosive du "Ton of bricks" de Metal Church sur celui-ci !
Et elle est particulièrement efficace.
Pour le reste, les Italiens enchaînent les titres efficaces qui sont autant d'invitations à un headbanging effréné et décomplexé, mentions spéciales à "Speed metal commando", l'explosif "The Hell of boiling metal (big trouble in Chinatown)", "Declaration of war", le très Overkill "Idiots' prophet", "Back on the hunt" ou le très Running Wild "Horns up for metal" qui clôt un album bien réussi !
Bref, un album plus que conseillé pour toute personne ayant un peu de folie entre les oreilles !
Tracklist :
1. Satan's Bride (3:19)
2. Speed Metal Commando (4:07)
3. The Brawl (4:47)
4. The Hell Of Boiling Metal (Big Trouble In Chinatown) (3:53)
5. Declaration Of War (2:56)
6. Tone Of Bricks (reprise Metal Church) (2:43)
7. Evil Bringer (4:55)
8. Idiots' Prophet (4:09)
9. Grandier's Damnation (3:51)
10. B.M.W. (Black Metal Wheels) (3:19)
11. Back On The Hunt (3:40)
12. Horns Up For Metal (6:04)
Retour en début de page