Le 23 juillet 2021 posté par Metalfreak
Line-up sur cet Album

Nils – Chant,Basse Matthias - Guitare. Michael - Batterie.
Style:
Death/Thrash Metal

Date de sortie:
23 juillet 2021

Label:
Spirit Coffin Publishing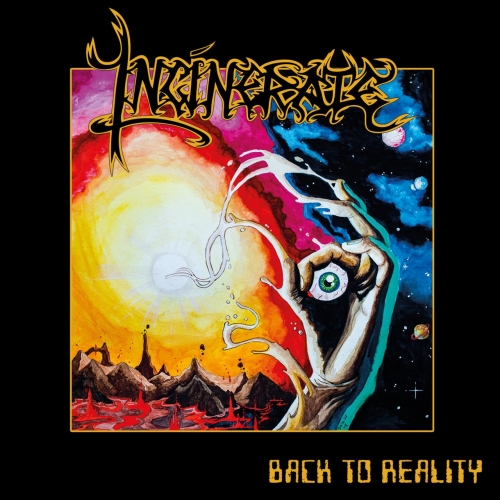 Note du SoilChroniqueur (Antirouille) : 9/10
Actif depuis 2008, Incinerate sort un premier album en 2016, Amazon Violence, puis Back to Reality le 06 mars via Dead by Dawn Records. Ce 23 juillet, Spirit Coffin Publishing édite l'album en cassette.
Dire que la Belgique se porte bien niveau metal extrême est peu dire et c'est de la scène underground d'Anvers que nous vient Incinerate.
Nos voisins vont t'avoiner sévère durant plus de 34 minutes d'un thrash bien vénère saupoudré d'un death bien lourd. Le décor est planté dès la première seconde : « Back to Reality » te fout dans le tambour d'une machine à laver sur le programme essorage et crois-moi, au maximum des tours/minutes.
L'équilibre n'est pas parfait, faisant la part belle au thrash dans des riffs simples, crus, acérés au possible, ne laissant aucun répit pour tes cervicales. La voix est rageuse, la basse percute et enveloppe l'ensemble dans un groove à la limite du respirable. La rythmique est galopante, les soli sont parfois grinçants, parfois démonstratifs et très haut en couleur. Les rythmes sont changeants, imprimés par une batterie passant d'un mid musclé à des tirs de Kalachnikov en cascade.
Seule erreur, le dernier titre live au son bien immonde qui pourri bien l'album. Imagine vomir un bon repas d'un chef étoilé. Tout ce qui te restera de ce repas, c'est le gout du vomi en bouche. Aller, j'oublie ce titre, il n'a jamais existé. Back to Reality est un album puissant, massif et agressif qui va te dézinguer sans ménagement.
Tracklist
1. Back to Reality (03:48)
2. Human Demise Ritual (04:19)
3. Internal Distress (03:32)
4. Reprisal (03:27)
5. Synthetic Blood Plasma Bath (05:07)
6. Collective Indoctrination (03:36)
7. Room 101 (03:15)
8. Terror Triangle (03:16)
9. Corporate Genocide (03:52)
10. Erased Earth (Live @ Malle '15) (03:20)
Retour en début de page