Le 21 septembre 2021 posté par Bloodybarbie
Line-up sur cet Album
John Chalmers : Guitares
Andrew Chalmers : Batterie
Timothy Johnston : Chant
Michael Grund : Guitares
Clare B. : Claviers.
Guests : Audeath - Basse sur 2, 5, 8, 10 et 11 / Matt Collacott - Basse sur 1, 3 et 6 / Nick Sauter - Solo de guitare sur 7 / Alex Chalmers - Clarinette sur 13.
Style:
Pagan Folk Black metal

Date de sortie:
Label:
23 juillet 2021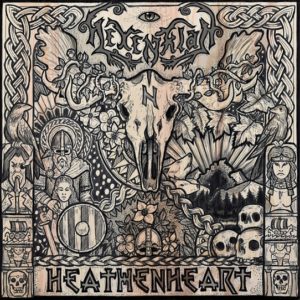 Note du SoilChroniqueur (Arno) : 7/10
Personnellement, je ne connais quasiment rien de la mouvance black folk pagan parce que le peu que j'en ai écouté m'a très (trop) souvent saoulé avec ses gros refrains de fiers guerriers, ses épopées mythologiques et ses ambiances de vestiaires (ça y est, je me suis assez de monde à dos ?). Pour être moins catégorique, disons que je ne suis guère sensible à la guerre, aussi noble et habillée de fourrure soit-elle.
A peu de chose près, c'est exactement ce que proposent les Canadiens de Hexenklad avec leur deuxième album « Heathenheart« , faisant suite à « Spirit of the Stone » paru en 2013. Alors je pourrai facilement balayer l'écoute mais je vais tâcher de rester un minimum objectif, même si je n'arrive pas au terme de l'heure que dure l'album. Trop long, beaucoup trop long, surtout pour des compositions répétitives.
En revanche, les vrais fans du style, il y a carrément moyen qu'ils apprécient ! En effet, le dosage est juste entre le black metal fortement teinté de heavy et des éléments plus résolument folk : les fameux refrains repris en chœurs et voix claire, les riffs totalement épiques et les lignes de chant dignes d'un chef haranguant ses troupes avant l'assaut final.
Je laisse ça là, à vous de voir si vous en mangez ou pas.
Tracklist :
1. Heathenheart
2. Cold Beauty of Winter
3. Huginn and Muninn
4. Dark Moon in Capricorn
5. Rootbound
6. The Raven Returns to the Knoll
7. A Thousand Paths to Wisdom
8. Olde Gods Awaken
9. Beware the Outstretched Hand
10. A Forest of Dead Trees
11. Upon the Wings of Valkyries
12. A Moment of Silence
13. We Raise a Horn
https://www.instagram.com/hexenklad/
https://www.facebook.com/hexenklad
https://deezer.page.link/qajwBdYPXccsKLMs7
https://open.spotify.com/artist/4dxXLPvUef89SxhS9JHa05
https://www.youtube.com/channel/UC4S79l … LLbvbhRukA
https://hexenklad.bandcamp.com/
Retour en début de page