Le 24 septembre 2021 posté par Metalfreak
Line-up sur cet Album
Mike Manslaughter – Basse
Mark Massakre – Batterie
Ironfist – Guitares, Chant
Style:
Speed / Black Metal

Date de sortie:
24 septembre 2021

Label:
Emanzipation Productions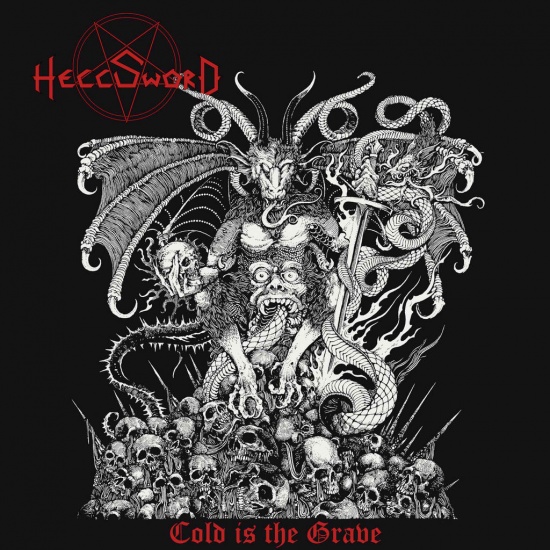 Note du SoilChroniqueur (Metalfreak) : 8/10
Et encore un retour en arrière !
Décidément, dès que ça se tripote le côté roots du metal extrême, je saute direct dessus.
Hellsword est un trio de la capitale slovène (Ljubljana, pour l'instant culturel) formé en 2009 et qui a sorti une démo ("Blasphemy Unchained") en 2011 comprenant une reprise de "Witchcraft" de Bathory, puis un EP de quatre titres en 2014 ("Sounding the Seventh Bell"), et a entre temps participé à un tribute à, je vous le donne en mille, Bathory ("Voices from Valhalla – A tribute to Bathory" en 2012), avec une reprise de "Die in fire".
Disons que ça plante un rien le décor !
Parce qu'en effet, l'horloge de Hellsword semble s'être arrêtée dans la deuxième moitié des eighties tant ce que le trio propose fait de suite penser à Hellhammer, Bulldözer, Venom, le Celtic Frost de "Morbid Tales" et "To Mega Therion" et bien sûr le Bathory entre le premier album éponyme et "Under the Sign of the Black Mark".
"Cold in the Grave" propose neuf titres comme un véritable hommage à la scène de dans-le-temps : un bon compromis entre le speed metal fortement influencé par la NWOBHM et le black metal, à savoir : riffs rapides et souvent saccadés, basse omniprésente, batterie en tempo speed et chant haineux typique du genre. Si on imagine Deströyer 666 rencontrant Warfare et Slayer, on est dans le vrai.
Hellsword y va de tous les clichés du genre : de l'artwork dessiné en noir et blanc avec logo du groupe et titre de l'album en rouge, au look qui arbore fièrement bracelets, brassières et gilets cloutés, ceintures à cartouchières, épées, chaines et crâne : bref, tout y est.
Et musicalement, c'est du old school pur jus : c'est clair, il n'y a pas mensonge sur la marchandise.
Les racines du genre sont bien exploitées et les nostalgiques, ceux qui se régalent sur Bewitched, Toxic Holocaust, Midnight, Nocturnal Breed ou Witchery vont sauter dessus.
Bref, encore un retour en arrière qu'on vous dit !
Tracklist :
1. Cold Is the Grave (5:16)
2. Call of the Sepulchre (4:22)
3. Satan, Death and Fear (4:28)
4. Riders of Wrath (3:47)
5. Cursed Blood (5:16)
6. Unholy Reich (4:39)
7. Baphomet's Shrine (5:34)
8. Chains of Mortality (3:38)
9. Evil's Rebirth (5:32)
Retour en début de page