Le 6 avril 2020 posté par Bloodybarbie
Line-up sur cet Album
Thrasherlady - Chant
Vincenzo Mandarano - Guitares
Fabrizio Ingallina - Guitares
Sirio Noto - Basse
Frank Scuderi - Batterie
Style:
Heavy metal

Date de sortie:
30 mars 2020

Label:
Infernö Records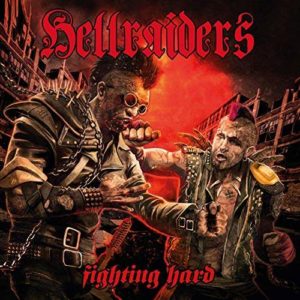 Note du SoilChroniqueur (Metalfreak) : 8/10
Premier album pour les Italiens de Hellraiders et autant entrer directement dans le vif du sujet : à tous ceux qui ne jurent que par le progressif ou les sonorités modernes et qui n'en ont rien à foutre des racines du Hard Rock et du Heavy Metal, vous pouvez de suite passer à la chronique suivante.
Ici, on va parler de NWOBHM, de Speed Metal et de tout ce que la première moitié des années 80 a pu nous apporter : Hellraiders rend ici un véritable hommage aux précurseurs d'un genre qui, finalement, revient par la grande porte depuis quelques années.
Chez ce quintet sicilien (Palerme), non seulement on a très bien écouté Motörhead, Tank, Raven, Girlschool, Rock Goddess, Wasp, Diamond Head, Saxon, Acid ou le Warhead belge, mais en plus on arrive à retranscrire fidèlement l'attitude des groupes du genre de l'époque.
Tout y est : du logo à la pochette, des riffs rapides, des duels de guitare, un chant à croiser entre celui de Kim McAuliffe (Girlschool) et Kate de Lombaerts (Acid), l'attitude, le look, la production, les lyrics… Avec "Fighting hard", on se prend un bond en arrière d'au moins trente-cinq années sans que cela ne choque quiconque !
Tous les titres sont courts, rapides, un bon rentre-dedans bien speed qui flirte régulièrement avec les frontières du Thrash Metal tout en gardant une fraîcheur rock n' roll qui fait plaisir à entendre : entre les très Motörheadiens "Fighting hard" ou "Kill for Beer" dont les riffs et les soli semblent tout droits sortis de la guitare de Phil Campbell, la reprise de Girlschool "Emergency", les énergiques "Beat to Death", "Starving for your Blood" et "Cursed by Gods", le plus punkisant "Hellraiders" ou le plus posé "They live", chaque titre semble taillé pour privilégier l'efficacité et donner envie à l'auditeur de secouer la tête en levant le poing.
Et que dire de la ballade "Prince of Hell" qui me rappelle un croisement entre un certain "Prince of Hell and Fire" d'Acid (sur "Maniac" en 1983) et "Beyond the Realms of Death" de Judas Priest avec une accélération digne des meilleurs moment de la NWOBHM, NWOBHM qu'on retrouve un peu partout dans l'album, à commencer par l'instrumental "Raider's Rage" qui ouvre l'album de fort belle manière, comparable à "Transylvania" d'Iron Maiden qui serait passé à la moulinette façon Motörhead, non sans oublier quelques samples de films cinématographiques…
Bref, le plus beau retour en arrière de ce début de printemps.
Tracklist :
01 – Raider's Rage (Instrumental) (2:42)
02 – Beat to Death (2:09)
03 – Hellraiders (2:50)
04 – Starving for your Blood (2:58)
05 – Cursed by Gods (4:47)
06 – They live (3:06)
07 – Kill for Beer (2:51)
08 – Prince of Hell (5:04)
09 – Emergency (reprise Girlschool) (2:52)
10 – Fighting hard (4:04)
11 – They live (Unplugged version) (1:56)
Retour en début de page