Le 20 septembre 2021 posté par Metalfreak
Line-up sur cet Album
Ander Baz : Basse
Iban : Batterie
Sergio Godoy : Guitares
Gorka Díez : Guitares
Pintxo Wayewta : Chant
Style:
Death Metal Mélodique

Date de sortie:
25 juin 2021

Label:
WormHoleDeath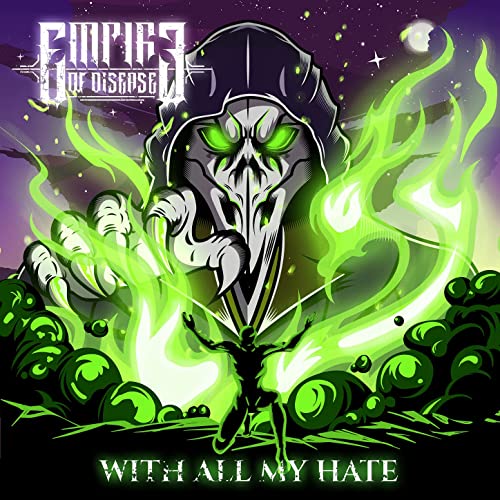 Note du SoilChroniqueur (Arno) : 7/10
Même si le Pays Basque se trimballe une image de région festive avec un folklore fortement implanté, cela ne devrait pas faire oublier que le metal y est également présent depuis plusieurs décennies, tant du côté français qu'espagnol, même si cette distinction fera bisquer les Basques. Ai-je besoin de citer Killers, Titan, Aggressive Agricultor, Hypnosis, Altarage, Numen, Su Ta Gar, Soziedad Alkohólika, Silent Opera, The Hellectric Devilz, vous excuserez l'absence de chronologie et l'oubli des centaines de groupes que j'ai pu voir dans ma jeunesse…
Tout ça pour dire que Empire Of Disease, avec son premier album « With All My Hate » après un EP paru en 2019 (« Silence Is Violence« ) s'inscrit dans une lignée de musique extrême qui a déjà fait ses preuves. En l'occurrence, la formation évolue dans un registre death metal mélodique flirtant parfois avec des éléments plus metalcore mais qui se destine davantage aux adultes qu'aux adolescents à mèches amateurs de refrains en chant clair.
Comme c'est un premier LP, il faut se montrer indulgent mais il n'y a finalement pas grand chose à reprocher à ces dix titres. On retrouve une bonne maîtrise instrumentale, le chant est en place et plutôt versatile, ce qui dynamise bien chacune des compositions, c'est suffisamment carton pour faire headbanguer une salle de concert, il n'y a guère plus à attendre de ce genre de disque. Ah si… peut-être une pochette moins moche ? Parce que le côté Skeletor et les Maîtres de l'Univers en vert fluo, ça pique un peu les yeux.
Tracklist :
1. Human Freak Show
2. Strange Saviours
3. To Be Reborn Among Ruins
4. Dawn of the Atheist
5. Panic & Pain
6. Wasted Your Time
7. A Breathing Chaos
8. Dead or Alive
9. With All My Hate
10. God Ends Here
Retour en début de page