Le 27 janvier 2023 posté par Metalfreak
Line-up sur cet Album
Don Dokken - Chant, Guitares
George Lynch - Guitares
Juan Croucier - Basse, Choeurs ("Breaking the chains")
Jeff Pilson - Basse (autres albums)
Mick Brown - Batterie, Choeurs
Style:
Heavy Metal

Date de sortie:
27 janvier 2023

Label:
Elektra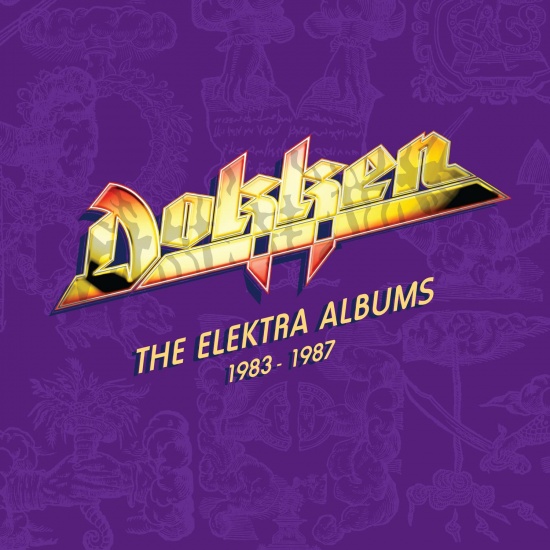 Note du SoilChroniqueur (M.L.A.M.) : 8/10
Elektra nous propose un coffret fort recommandable avec les quatre premiers albums de Dokken sortis entre 1983 et 1987 et qui restent encore aujourd'hui les incontournables du groupe : Breaking the Chains, Under and Lock Key, Tooth and Nail et surtout Back for the Attack qui reste le plus gros succès du groupe.
Dokken l'exemple du groupe US qui bien a cartonné sur MTV durant les années 80 et dont tout le monde se rappelle les clips plutôt sympathiques dont notamment le très bon « Dream Warrior » qui figura sur la bande originale du film A Nightmare on Elm Street 3.
Back for the Attack, ce sont aussi les tubesques « Kiss of Death » ou « Heaven Sent » qui sentent bon le classic rock US. D'ailleurs, en 1987, c'était un gros carton pour les groupes typés hair metal que ce soit Def Leppard avec Hysteria, Mötley Crüe avec Girls, Girls, Girls ou Guns 'n' Roses avec Appetite for Destruction.
Les autres albums proposent du très lourd aussi, je pense notamment à l'album de 1985 « Under Lock and Key » qui, lui, propose ces tubes bien calibrés US, je citerai par exemple « The Hunter » ou le magnifique « In My Dreams »
Les deux autres albums "Breaking the Chains" et "Tooth and Nail" eux aussi méritent une oreille approfondie car y a du très bon dessus, je pense à « Breaking the Chains », la bonne tuerie « Live to Rock (Rock to Live) » ou encore « Stick to Your Guns ».
Un coffret qui devrait sortir a un prix sympathique et devrait intéresser surtout les gens n'ayant pas ces indispensables du classique rock dans leur CDthéque.
Les gens ayant connu l'âge d'or du genre doivent avoir tout en vinyles.
Tracklist « Breaking the Chains » :
1. Breaking the Chains (3:50)
2. In the Middle (3:44)
3. Felony (3:07)
4. I Can't See You (3:12)
5. Live to Rock (Rock to Live) (3:38)
6. Nightrider (3:13)
7. Seven Thunders (3:56)
8. Young Girls (3:14)
9. Stick to Your Guns (3:24)
10. Paris Is Burning (Live Berlin 1982) (5:08)
Tracklist « Tooth and nail » :
1. Without Warning (1:35)
2. Tooth and Nail (3:40)
3. Just Got Lucky (4:35)
4. Heartless Heart (3:29)
5. Don't Close Your Eyes (4:06)
6. When Heaven Comes Down (3:43)
7. Into the Fire (4:30)
8. Bullets to Spare (3:32)
9. Alone Again (4:20)
10. Turn on the Action (4:15)
Tracklist « Under the Lock Key » :
1. Unchain the Night (5:17)
2. The Hunter (4:06)
3. In My Dreams (4:18)
4. Slippin' Away (3:46)
5. Lightnin' Strikes Again (3:47)
6. It's Not Love (5:01)
7. Jaded Heart (4:13)
8. Don't Lie to Me (3:38)
9. Will the Sun Rise ? (4:09)
10. Till the Livin' End (3:56)
Tracklist « Back For the Attack » :
1. Kiss of Death (5:51)
2. Prisoner (4:21)
3. Night by Night (5:24)
4. Standing in the Shadows (5:07)
5. Heaven Sent (4:52)
6. Mr. Scary (4:31)
7. So Many Tears (4:57)
8. Burning Like a Flame (4:47)
9. Lost Behind the Wall (4:20)
10. Stop Fighting Love (4:52)
11. Cry of the Gipsy (4:51)
12. Sleepless Nights (4:32)
13. Dream Warriors (4:47)
Deezer
Facebook
Instagram
Myspace
SoundCloud
Spotify
YouTube
Retour en début de page