Le 19 septembre 2021 posté par Metalfreak
Line-up sur cet Album
Mor : Basse
Angel : Guitare
Dimas : Guitare
Kim : Batterie
Iven : Chant
Style:
Death Metal Technique

Date de sortie:
30 juillet 2021

Label:
Dead Center Productions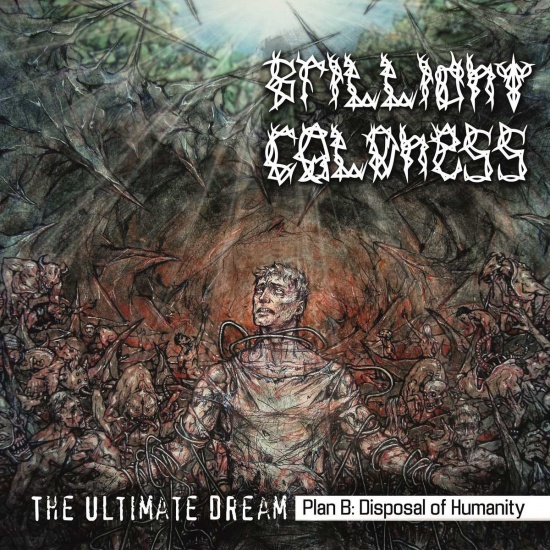 Note du SoilChroniqueur (Arno) : 9,5/10
Je découvre tout juste les Ukrainiens de Brilliant Coldness avec leur troisième LP « The Ultimate Dream : Plan B Disposal of Humanity » et, bordel, pourquoi est-ce que je n'ai jamais entendu parler de cette formation ? Car elle est tout simplement brillante ! (Oui, je ne me suis pas foulé pour trouver cet adjectif).
Si c'est du death ? Bien entendu, et le meilleur qui soit ! Si c'est technique ? Putain oui ! Mais pas à la façon du shred, plutôt selon les codes de la vague techno death des années 90 (Pestilence, Atheist) avec la brutalité actuelle. Autrement dit, sur des mid-tempos boostés par une basse sèche et audible, les guitares tricottent des rythmiques et des riffs complexes qui font du neuf avec du vieux.
Par exemple, si le fait d'avoir une arythmie en fond avec par-dessus un solo mortel est typique de la scène moderne, le son et la structure même des onze compositions piochent vraiment dans l'héritage des plus grands anciens pour un résultat absolument parfait. Je n'attendais clairement pas à un tel concentré de talent de la part de Brilliant Coldness qui, dans l'ombre, a écrit l'une des pièces maîtresses du death metal de cette année. Incroyable !
Tracklist :
1. The Ultimate Dream pt. 1
2. The Moment of Resistance
3. The Top of the Perish
4. Individual Hell
5. The Crown of Darkness
6. The Symphony of the Running Away Life
7. Technogenic Illusion
8. Phantasm
9. Devilish Misanthropy
10. Chameleon
11. The Ultimate Dream pt. 2
Retour en début de page