Le 20 mai 2019 posté par Bloodybarbie
Line-up sur cet Album
Markus "Marduk" Siro - Guitares
Tuomas "Tuberculosis" Piippo - Chant
Tuomas "Cove" Laakso - Basse
Zyklonizer - Guitares
Tuomas "Ismortal" Heikura - Batterie
Style:
Death Metal

Date de sortie:
31 mars 2019

Label:
Great Dane Records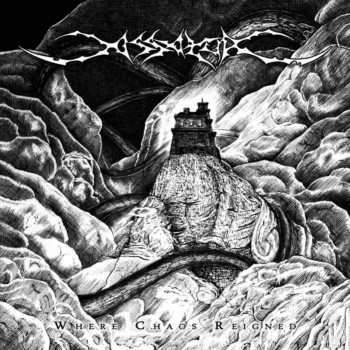 Note du SoilChroniqueur (Metalfreak) : 7,5/10
Formé en 2011, le quintette de Tampere (Finlande) a sorti deux démos From the depths of madness (2012) et Nameless rites (2015), puis une compilation regroupant les deux démos en 2017, et enfin un premier album Where chaos reigned…
Premier album ?
Mmmmouais : sur les douze titres de ce premier jet, les quatre premiers ont été enregistrés en 2015, les quatre suivants sont issus de la démo Nameless Rites de 2015 et les quatre derniers proviennent de la démo From The Depths Of Madness.
En clair, on a droit à quatre titres inédits mais qui avaient déjà été enregistrés il y a quatre ans.
En matière de nouveautés, on repassera…
En matière de nouveauté, musicalement parlant, on repassera aussi !
Assatur évolue dans un death metal tout ce qu'il y a de plus old school, avec ses guitares accordées très bas et un chant d'outre-tombe difficilement plus grave et étouffant. Les Finlandais jouent sur les lourdeurs, tout en proposant une musique souvent rapide et glauque au possible.
On pense à Asphyx, à Morbid Angel, à Bolt Thrower et à toute cette tripotée de groupes de death metal des années 90 qui mettaient un poing d'horreur à nous étouffer sous des riffs ultra plombés et empreints de ténèbres particulièrement opaques.
Riffs épais, chant lugubre et guttural, ambiances suffocantes ou brutales en fonction des passages, basse omniprésente, batterie épileptique ou ultra pesante suivant le rythme proposé, tout y est.
On parcourt des sentiers battus, croisant les mêmes cadavres en décomposition que lors de beaucoup d'autres albums du même tonneau sanguinolent, et c'est toujours les mêmes odeurs de chair en putréfaction qui embaument l'écoute de ces sommets d'immondices purulentes et dégoulinantes !
Bref, c'est cru, c'est crade, c'est dégueulasse, et on adore…
Tracklist :
1. Outburst of Pandemonium (4:18)
2. Elaborate Speech Machine (4:10)
3. To the Foul Lake (3:32)
4. Call of the Undesirable (4:41)
5. The Gate (3:50)
6. Through the Maze (2:57)
7. All Consuming Plague (2:40)
8. Ethereal Form (5:00)
9. City of Madness (3:27)
10. Contagious Pestilence (2:22)
11. Pit of Despair (2:54)
12. Black Ruined Tower (2:45)
Retour en début de page