Le 4 mars 2016 posté par Bloodybarbie
Line-up sur cet Album
Stephan Wandernoth : basse, chant
Daniel Droste : chant, guitare
Christian Hector : guitare
Cornelius Althhammer : batterie
Style:
Funeral Doom Metal

Date de sortie:
Aout 2015

Label:
Napalm Records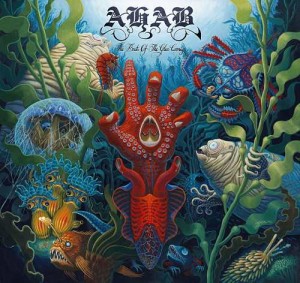 Note du SoilChroniqueur (Arno) : 7,5/10
Honnêtement, je n'attendais pas de la part des Allemands d'Ahab une telle longévité, ni une telle créativité. En effet, bien souvent, les musiciens qui s'appuient sur un unique concept finissent plus ou moins rapidement par tourner un rond. Il n'y a qu'à voir Nile qui semble ne plus rien avoir à dire depuis au moins quatre albums pour être convaincu : soit la formation devrait se saborder pour passer à autre chose, soit elle accepter de s'enliser dans les sables mouvants de la répétition ad nauseam, finissant d'écoeurer ses derniers fans.
Bien heureusement, Ahab n'en est pas encore là, même si un carré de disques n'est pas suffisant pour estimer l'étendu réelle de l'inspiration du quatuor. Il reste que c'est à chaque fois un renouvellement dans la continuité avec systématiquement une forte adéquation entre le fond et la forme. Les plus durs d'entre nous regrettent peut-être déjà que le Funeral Doom de « The Call Of The Wretched Sea » ait été souillé par des tempos acceptables voire du chant clair et tout un tas d'influences Post trempées dans le psychédélisme, il reste que « The Boats Of Glen Carrig » est une belle réussite : riffs inspirés, vocaux phénoménaux, superbes ambiances, il ne faut désormais plus évoquer l'effet de surprise. Ahab fait partie des grands groupes de Doom.
Tracklist :
01 : The Isle
02 : The Thing That Made Search
03 : Like Red Foam (The Great Storm)
04 : The Weedmen
05 : To Mourn Job
Site officiel : http://www.ahab-doom.de/
Myspace : https://myspace.com/ahabdoom
Facebook : https://www.facebook.com/AhabDoom
Retour en début de page