Le 24 novembre 2021 posté par Metalfreak
Line-up sur cet Album
Shane Embury – Basse
Tomas Lindberg – Chant
Anton Reisenegger – Guitares
Kevin Sharp – Chant
Adam Jarvis – Batterie
Style:
Death Metal / Grindcore

Date de sortie:
26 novembre 2021

Label:
Listenable Records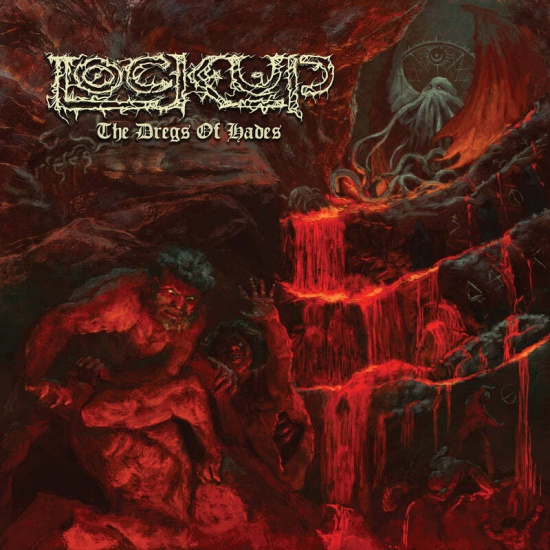 Note du SoilChroniqueur (Metalfreak) : 8/10
L'un des supers groupes du grindin' death metal, Lock Up, est de retour quatre ans après l'implacable "Demonization" avec ce nouvel album.
Deux changements dans le line up, et pas des moindres, puisque le batteur multi-bras Nicholas Barker est parti, laissant la place à Adam Jarvis (Asthma Castle, Fulgora, God Enslavement, Misery Index, Pig Destroyer, Scour, ex-All Will Fall, ex-Criminal Element) et le groupe voit le retour de Tomas Lindberg (At the Gates, Sign of Cain, The Lurking Fear, Ben-Hur, Disfear, The Great Deceiver, ex-Nightrage, ex-Grotesque, ex-Infestation, ex-The Crown, ex-Liers in Wait, ex-Conquest, ex-Hide, ex-Skitsystem, ex-Snotrocket, ex-World Without End) pour assurer les parties vocales en compagnie de celui qui l'a remplacé depuis 2014 : Kevin Sharp (Venomous Concept, ex-Brutal Truth, Primate, ex-Damaged).
Toujours fidèles au poste, le bassiste Shane Embury (Napalm Death surtout, mais entre beaucoup d'autres) et le guitariste Anton Reisenegger (Brujeria, Criminal, Metal Against Coronavirus, Pentagram Chile, ex-Fallout, United Forces, ex-Inner Sanctvm) complètent ce line up aux CV longs comme plusieurs de mes bras.
On ne va pas laisser planer le suspens trop longtemps : Lock Up, ça reste évidemment un groupe capable de nous coller 14 titres pour un total de 38 minutes. Inutile de s'attarder trop longtemps, il n'ont pas vraiment ralenti le tempo et continue de nous asséner mandales sur mandales avec une efficacité qui leur est propre. Non, le désormais quintet anglais ne s'est pas mis au progressif, encore moins au glam !
Non, la machine de guerre est en route, avec une recherche sadique de la brutalité sous sa forme la plus pure. Cela va vite, pour ne pas dire très vite, et les seuls moments de relative accalmie sont l'intro ambiante "Death itself, brother of sleep" et le dernier titre, étonnamment long de six minutes, proposant un aspect plus lourd et oppressant avec quelques intonations industrielles, véritable furie contrôlée qui ne demande qu'à sortir.
Pour le reste ? Ben ça tabasse, madame ! Et ils n'ont sûrement pas envie de retenir leurs coups.
C'est donc une déferlante de violence tout azimut qui part dans tous les sens avec le seul but de nous laisser groggy à chaque fin de morceau qu'on accueille presque avec le soulagement d'un boxeur débutant qui entend la sonnette de fin de round face à un démolisseur qui compterait une cinquantaine de victoires par KO pour autant de combats !
De toute façon, on ne va pas faire les hypocrites : quand on s'achète un album de Lock Up, c'est qu'on sait d'avance qu'on va encore atteindre des sommets dans la brutalité. Et vu que c'est ce qu'on recherche, Lock Up nous le donne !
Et pis c'est tout.
Tracklist :
1. Death Itself, Brother of Sleep (Intro) (1:41)
2. Hell Will PLague the Ruins (2:18)
3. The Dregs of Hades (2:00)
4. Black Illumination (3:53)
5. Dark Force of Conviction (2:16)
6. Misdirection Thief (2:09)
7. Dead Legions (2:20)
8. Triumph of the Grotesque (2:55)
9. Nameless Death (2:08)
10. A Sinful Life of Power (3:09)
11. Ashes (2:39)
12. The Blind Beast (2:15)
13. Reign On in Hell (2:37)
14. Crucifixion of Distorted Existence (6:08)
Retour en début de page