Le 11 novembre 2017 posté par Bloodybarbie
Line-up sur cet Album
Julien Robo Tastet - Basse, Choeurs
Patrick Moulinx Talgorn - Batterie
Steven Shredder Schriver - Guitares, Chant
Manu Kroxk Iriarté - Guitares, Chant
Style:
Death/Thrash Metal

Date de sortie:
25 Octobre 2017

Label:
Great Dane Records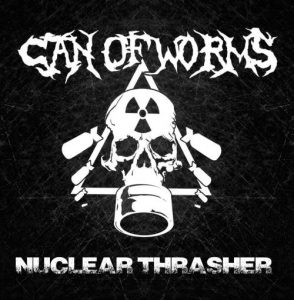 Note du SoilChroniqueur (Metalfreak) : 7,5/10
Et si Can of Worms avait composé la bande son de la fin du monde ?
Je ne sais pas ce qu'ils mettent dans leur jambon mais les Bayonnais repoussent très loin les frontières du Thrash/Death Metal, le tout avec une rage et une furie proche du Crust ! C'est-y pas beau tout ça ?

En moins d'une demi heure, les neuf titres de ce "Nuclear Thrashers", troisième album de cette formation qui fête ses dix ans d'existence, dévastent tout sur leur passage ! Des mid tempo ? Que nenni ! Ou alors dans leur version la plus assassine ! Des plages ambiantes, atmosphériques ou éthérées ? Non mais ça ne va pas la tête ? Y sont pas là pour ça, ces mecs !
Can of Worms balance la sauce dans ta face à grand renfort de blasts, de hurlements et de riffs dignes d'un Lucky Luke du thrash ! Bref, ça tabasse de la première à la dernière seconde ! Et puis c'est tout ! Chaque morceau est une invitation au headbanging et accessoirement à tout exploser dans ta chambre lors de pogos effrénés devant ton miroir qui ne résistera pas lui non plus à une telle déflagration sonore !
Can of Worms, c'est la déclaration de guerre en concert, une invitation à chaque specta-tueur à foutre sur la gueule de son voisin, à grand renforts d'armes de destruction massive comme le Wall of Death ou le Circle Pit furieux !
Can of Worms, c'est l'ennemi du fan de prog metal, c'est le tueur en série de tout adorateur de hard FM, c'est le décimateur de toute rythmique en dessous de 90 BPM, c'est le groupe qui a décidé de mettre une musique sur ton pire cauchemar !
Can of Worms, c'est fait pour te dénuquer les cervicales – ou de décervicaliser la nuque, au choix – sur ses riffs de malades. Et lorsqu'ils ralentissent un tantinet le tempo, c'est pour mieux t'étouffer sous la lourdeur de leurs riffs histoire de t'achever quand le full speed reprend.
Can of Worms, c'est définitivement la bande son de la fin du monde, qu'on te dit ! Pas de survivants ! Point final !
Tracklist :
1. No Way out (2:38)
2. Nuclear Violence (3:02)
3. Dystopian Future (2:59)
4. Strike first (3:57)
5. Stronger than all (2:35)
6. No more (1:22)
7. Running Dead (3:26)
8. World Collapse (4:05)
9. Colossal Maelstrom (3:45)
Site officiel : http://www.canofworms.fr/
BandCamp : https://canofworms.bandcamp.com/
Myspace : http://myspace.com/canofwormsmetal
Facebook : http://www.facebook.com/pages/CAN-OF-WORMS/143939398950820
ReverbNation : http://www.reverbnation.com/canofworms
SoundCloud : https://soundcloud.com/canofwormsmetal
Twitter : https://twitter.com/canofwormsmetal
Youtube : http://www.youtube.com/user/canofwormsmetal
Retour en début de page