Communication de nos partenaires

Le 22 novembre 2012 posté par Metalfreak
Line-up sur cet Album

Joe Bolta - Chant Pep Casas - Guitares, Chant Jackson - Basse Miki - Batterie Claudio Ringeling – Guitares
Style:
Thrash metal

Date de sortie:
Septembre 2012

Label:
Xtreem Music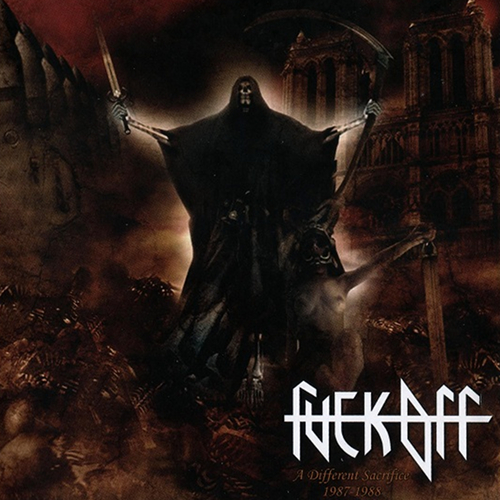 Note du Soilchroniqueur (Metalfreak) : 7/10
Fondé en 1986, Fuck Off a été l'un des touts premiers groupes de thrash metal, avec Legion, en Espagne, et jouit encore aujourd'hui d'un statut culte dans le genre.
En 1988, ils changent de nom pour s'appeler Destroy, pour finalement revenir à leur nom originel, et sortent leur premier album « Another sacrifice » en 1988, suivi d'un single éponyme la même année. « Hell on Earth » en 1990 sera le dernier album du groupe avant son split.
C'est sans Pep Casas que le groupe se réunira sous un autre nom, Casas étant le propriétaire du nom Fuck Off, mais rien ne sortira sous cette formation.
En 2006, « Hell on Earth » ressort sous la volonté de Casas, sans le consentement des autres membres.
En 2010, Casas tente de reformer le groupe sous le line up de « Another sacrifice » mais seul le chanteur Joe Bolta acceptera le challenge.
Et c'est en 2012 que Xtreem Records sort ce « A different sacrifice 1987-1988 » regroupant le premier album « Another sacrifice » – dans un ordre différent, et sans la reprise « Black magic » de Slayer – avec les deux titres du single « Fuck off » et surtout avec un bien meilleur son que l'édition originale.
En trente-cinq courtes minutes, « A different sacrifice 1987-1988 » revisite un thrash basique tel que les labels en signaient par catalogues entiers à cette époque : si c'est relativement bien foutu, speed, et permet de passer de bons moments, c'est aussi basique au possible et maintes fois entendu et réentendus, mais propose également son lot de très bons brûlots (« Awaiting your death », « Prepare in war », « Maniac », « Another sacrifice », « The last flight » ou « Sueno maldito »)
Tout est irrésistiblement thrash avec son lot de réminiscences typiquement speed metal, rythmiques saccadées, chant aigu, on pense régulièrement à Flotsam And Jetsam époque « No place for disgrace » (« The last flight »), Anthrax période « Fistful of metal » / « Spreading the disease » (« Blood in the night »), aux premiers Metallica ou à Death Angel (« Maniac » aurait pu avoir sa place sur « The ultra violence »), notamment au niveau vocal, toutes proportions gardées.
Les Barcelonais avaient sorti avec ce premier effort un album correct pour l'époque qui n'avait pas à rougir par rapport à de nombreuses formations du même genre.
Vingt-cinq ans après, ça a certes quelque peu vieilli, et le lifting opéré sur l'album est certes correct mais rend malgré tout une copie qui sent le vieux papier, mais peut faire frémir les plus accros des nostalgiques !
Gageons sur un retour de ces pionniers du thrash ibérique avec un album sous le bras de pur speed / thrash old school, et une production actuelle : ça pourrait bien être énorme !
Tracklist :
1. No Return (4:36)
2. Maniac (4:50)
3. Another Sacrifice (6:39)
4. Born to Die (3:38)
5. The Last Flight (5:05)
6. Blood in the Night (3:35)
7. Sueno Maldito (3:56)
8. Awaiting Your Death (2:28)
9. People in War (3:27)
10. Fuck Off (1:58)
Myspace : http://www.myspace.com/pionerosdelthrash
Retour en début de page