Le 21 avril 2021 posté par Metalfreak
Line-up sur cet Album
Walter Hernandez : Guitares
Gustavo Acosta : Basse
Emiliano Wachs : Batterie
Sven D'Anna : Chant
David Shankle : Guitares
Guest : Juan Roleri - Piano sur 10.
Style:
Power Metal

Date de sortie:
21 avril 2021

Label:
Massacre Records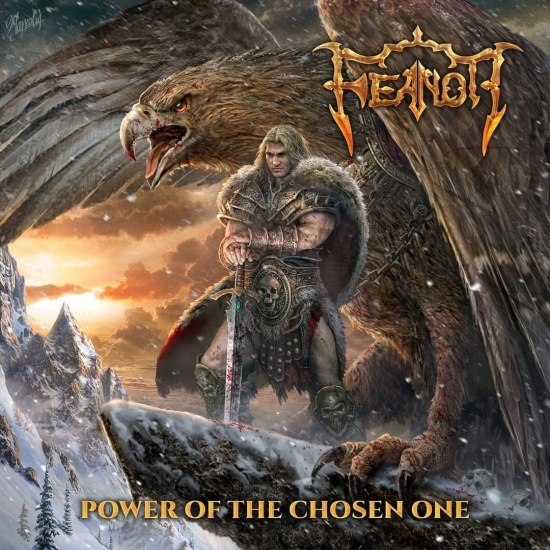 Note du SoilChroniqueur (Metalfreak) : 8,5/10
Quatrième album full length pour les Argentins de Feanor après "Invencible" (2005), "Hellas" (2010) et "We are heavy metal" (2016) et le moins qu'on puisse dire, c'est que le quintet s'y entend pour perpétuer la flamme d'un pur heavy metal épique à la Manowar.
Désormais seul membre originel, le bassiste Gustavo Acosta est toujours flanqué du batteur Emiliano Wachs, avec lequel il joue dans Montreal depuis 1999, et du guitariste Walter Hernandez depuis le split avec Sin Starlett de 2010. Le groupe a vu arriver l'excellent chanteur Sven D'Anna (Wizard) en 2016 (ce dernier avait déjà enregistré "We are heavy metal" cette même année) et l'excellent guitariste David Shankle (David Shankle Group, Devil Land, Holy Tide, ex-Manowar, ex-Paradoxx, ex-Voodoo Gods, ex-Army of Souls, ex-ED3N) qu'on a tous entendu sur l'excellent "The triumph of steel" du groupe qui a fait une non-apparition remarquée au Hellfest 2019 !
Quelque part, on ressent plus les influences de Wizard que de Manowar et, surtout, Feanor semble avoir un peu perdu de son identité au profit d'un heavy / power metal épique plus traditionnel. Peut-on pour autant, en ce qui concerne ce "Power of the chosen one", parler d'un chaînon manquant entre "Head of the deceiver" (pour moi le meilleur album de Wizard) et "Kings of metal" ?
Pas loin quand même : ambiance très heroic fantasy qui fait comprendre pourquoi le groupe a choisi comme nom celui d'un personnage du "Silmarillion" de J.R.R. Tolkien, chœurs guerriers, riffs plombés, chant difficilement plus viril que ne renierait pas Eric Adams himself et cette capacité à nous composer des titres de quatre à… dix-neuf minutes, particulièrement épiques, qui passent comme autant de lettres à la poste !
Alors, Feanor a-t-il sorti l'album que les fans de Manowar n'osaient plus espérer ? Et pourquoi pas ?
Tracklist :
1. Rise of the Dragon (5:36)
2. Power of the Chosen One (5:44)
3. This You Can Trust (4:01)
4. Metal Land (4:09)
5. Hell Is Waiting (4:36)
6. Together Forever (4:25)
7. Bringer of Pain (3:50)
8. Lost in Battle (5:15)
9. Fighting for a Dream (6:18)
10. The Return of the Metal King (the Odyssey in 9 Parts) (19:32)
Bandcamp
Facebook
Site officiel
Instagram
Myspace
Spotify
Twitter
YouTube
Retour en début de page