Le 15 septembre 2019 posté par Bloodybarbie
Line-up sur cet Album
Jonathan Davis - chant, cornemuse
James "Munky" Shaffer - guitare
Brian "Head" Welch - guitare
Reginald "Fieldy" Arvizu - basse
Ray Luzier - batterie
Style:
Nu metal

Date de sortie:
13 septembre 2019

Label:
Roadrunner Records & Elektra Records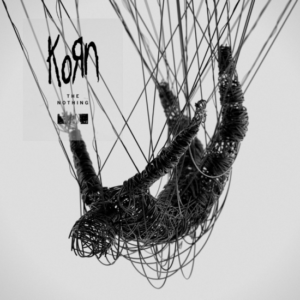 Note du SoilChroniqueur (Noname) : 8,5/10
Ça fait donc une semaine que je me passe cet album en boucle. Je ne pensais pas revivre ça depuis le lycée en 2004. On va y aller franco : cet album est incroyable.
Sincère, sans artifice et direct, The Nothing est l'antithèse de ce qu'a pu être l'horreur Remember Who You Are. Ici, il n'y a pas de chialades ou de poncifs redondants et forcés. Hormis sur l'introduction mais qui (curieusement) passe naturellement comme s'il fallait expulser ça directement dès le début. Pour que le reste puisse mieux te péter à la gueule ensuite.
Ils ont enfin réussi à retrouver ce qu'ils avaient perdu tout en évoluant vers quelque chose de plus contenu, intimiste et totalement maîtrisé. Jonathan Davis est métamorphosé, le mec sait tout faire, il te colle les miquettes sur chaque piste (mention spéciale à "The Ringmaster" et au rouleau compresseur "Idiosyncrasy"). Je ne vais pas déblatérer plus longtemps, donc imaginez Issues sortir en 2019 avec les envolées opéra rock de Untouchables, et vous obtenez The Nothing, le meilleur album de Korn depuis 15 ans. Inespéré.
Tracklist :
1. The End Begins (1:30)
2. Cold (3:45)
3. You'll Never Find Me (3:40)
4. The Darkness Is Revealing (3:40)
5. Idiosyncrasy (4:38)
6. The Seduction of Indulgence (1:42)
7. Finally Free (3:53)
8. Can You Hear Me (2:52)
9. The Ringmaster (3:00)
10. Gravity of Discomfort (3:34)
11. H@rd3r (4:47)
12. This Loss (4:41)
13. Surrender to Failure (2:21)
Site officiel : https://kornofficial.com
Facebook : https://www.facebook.com/korn
Spotify : https://open.spotify.com/album/6mWsWVsfWpoZ2d6uxm1ND1
Retour en début de page