Le 15 février 2020 posté par Bloodybarbie
Line-up sur cet Album
JB Le Bail : Vocals/Guitar
Nicolas "Ranko" Muller: Drums
Clement Flandrois : Guitar

Julien Negro: Bass guitar
Style:
Black Metal

Date de sortie:
7 Février 2020

Label:
Century Media Records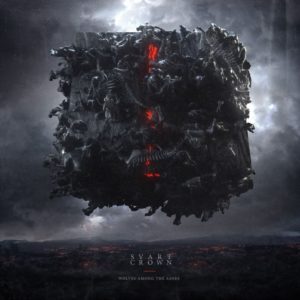 Note de la SoilChroniqueuse (Bloodybarbie) : 7.5/10
Alerte noire, alerte noire, Svart Crown vient de sortir un nouvel album « Wolves Among The Ashes » ! Ce groupe n'a cessé de gravir des échelons pour atteindre le sommet de la scène Black Metal français et même la scène internationale en tournant avec beaucoup de grandes figures du domaine comme Rotting Christ, Marduk, Deicide et j'en passe.
Depuis 2017, le chef d'orchestre JB Le Bail a subi un changement complet de line-up marqué par le retour de l'ancien batteur Ranko. Un autre fait marquant est la présence du chant clair dans ce black metal si sombre, comme dans « Down To Nowhere » et « Thermaggedon » qui ne déplaisent pas !
J'avoue avoir préféré Abcreation qui m'avait bien mise en transe, mais ce nouveau disque est de bonne facture et contient des morceaux grandioses et très prenants, qui marquent les esprits comme « Art Of Obedience », « Exoria », « Living With The Enemt » et « At The Altar Of Beauty ».
Svart Crown sera en tournée avec Gost dès le 25/02 et de passe en France sur plusieurs dates et villes (consultez leur page facebook/web).
Interview de JB Le Bail ici
Tracklist :
01. They Will Not Take Our Death In Vain
02. Thermageddon
03. Art Of Obedience
04. Blessed Be The Fools
05. At The Altar Of Beauty
06. Down To Nowhere
07. Exoria
08. Living With The Enemy
Retour en début de page