Le 3 septembre 2021 posté par Metalfreak
Line-up sur cet Album

Neil Grandy – Batterie / Charlie Leduc - Guitares, chant Invité : Jon Levasseur guitare solo sur 8
Style:
Death metal technique

Date de sortie:
3 septembre 2021

Label:
Indépendant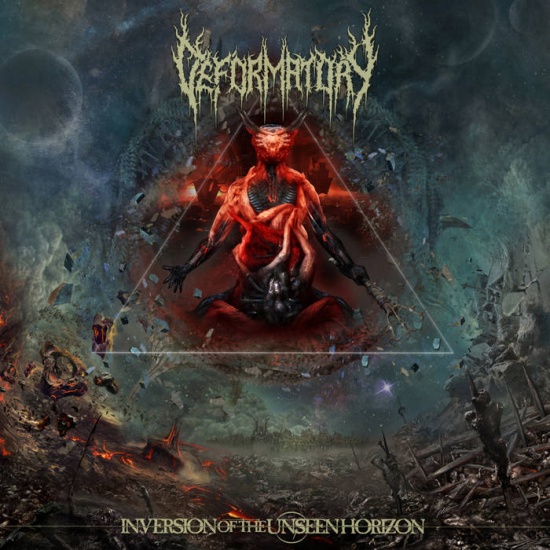 Note du SoilChroniqueur (Antirouille) : 9/10
Deformatory est un groupe originaire d'Ottawa et est actif sur la scène canadienne depuis 2010. Ils ont à leur passif un EP et deux albums dont le dernier Malediction datant de 2016. Pas de signature pour ce Inversion of the Unseen Horizon paru ce 3 septembre, les canadiens ayant quitté leur label pour se la jouer autoprod.
Deformatory, c'est deux musiciens : Neil Grandy à la batterie et Charlie Leduc fait le reste y compris la voix. Nos ottaviens nous jouent un death metal technique et l'agrémentent d'une touche de brutal.
C'est hyper rapide, Neil se défonce derrière sa batterie et nous pilonne façon marteau piqueur. On arrive péniblement à reprendre notre souffle sur quelques breaks salutaires, mais notre batteur / broyeur reprend de plus belle et nous laisse souvent sur le carreau. La voix est juste parfaitement maitrisée, dans un growl aussi profond que caverneux que ne renieraient pas les amateurs de brutal death.
Les parties techniques sont certes démonstratives mais tu n'en aura pas à outrance, il n'y a pas de surenchère ou de mesure de bite, Deformity ne cherchant pas ici à savoir qui a la plus grosse.
Invité sur cet album, Jon Levasseur, ex Cryptopsy, se fend de solos sur « Impaled upon the Carrionspire ».
Le mixage nous efface par moment les riffs de guitares et on aurait voulu un peu plus de solos. Un seul est à retenir, celui sur « Masticated by an Infinite Shadow », haut en couleur et démonstratif.
Deformatory ne surclassera pas les formations les plus brillantes du registre, mais Inversion of the Unseen Horizon est un album hyper bien exécuté, plaisant et addictif.
C'est rapide, décapant, imposant, massif et bestial. bravo.
Tracklist
1. Within the Astral Abscess (05:20)
2. Behold, the Apex of Decay (04:36)
3. Engineering the Wvrmhorde (04:39)
4. Summoning the Cosmic Devourer (07:13)
5. Masticated by an Infinite Shadow (04:30)
6. In the Embervoid Where Dead Stars Reign (03:52)
7. Deciphering the Archetype (03:53)
8. Impaled upon the Carrionspire (05:01)
9. Beyond the Abhorrence (04:13)
Bandcamp  Facebook  Instagram
Soundcloud  Youtube
Retour en début de page