Communication de nos partenaires

6 octobre 2012
par Metalfreak

Note du SoilChroniqueur (Metalfreak) : 8,5/10
The torture never stops…
Zatokrev
, quatuor bâlois tripotant dans une veine
Doom/Sludge Post-hardcore
, nous offre une nouvelle œuvre torturée à souhait, six longues années après leur dernière merveille «
Bury the ashes
»… et paradoxalement encore trop méconnu.
Gageons que leur récente signature chez
Candlelight
va changer la donne : si «
Bury the ashes
» était une merveille, que dire de ce «
The bat, the wheel, and a long road to nowhere
» ?
Lire l'article

Note du Soilchroniqueur (MetalPsychoKiller) : 08 / 10
S'il te plait, dessine moi un mouton…
Près de vingt années d'existence et même pas une demi-douzaine d'albums plus tard, et le team dégénéré du bulbe de Greg Chandler, leader omniprésent et charismatique du combo de Birmingham Esoteric, nous revient avec sa joie auditive communicative.
Lire l'article
5 novembre 2011
par METALPSYCHOKILLER
Note du Soilchroniqueur (MetalPsychoKiller)
:
8,5 / 10
Amateurs et passionnés de Doom attention, haut de gamme! Pourquoi cette petite phrase accrocheuse mais minimaliste en entame? Tout simplement afin de vous éviter de passer, -dans la jungle et la myriade de sorties journalières de scuds de notre planète Metal-, à coté d'un album qui plus que de valant le détour flirte tout viscéralement avec l'excellence et le sublime. Tout à chacun sensible au Doom empreint de la magnificence de la nostalgie, des tourments mélancoliques et romantisme ombré du dix huitième siècle, retrouvera dans ce «
The Shortest Way
» l'éventail d'ingrédients musicaux ayant forgé les lettres de noblesse de ce sous style Metal.
Lire l'article
17 avril 2011
par celtikwar

Note du Soilchroniqueur (Celtikwar): 7/10
While Heaven Wept est un groupe assez étonnant, plus de vingt années d'existence, et pourtant on a que quatre albums à se mettre sous la main. L'élaboration du premier opus, « Sorrow of the Angels », dure dix ans puisque publié en 1998. Il faut ensuite cinq ans pour « Of Empires Forlorn » et pas moins de six années pour le somptueux « Vast Oceans Lachrymose »
Lire l'article
30 mars 2011
par LittleGirlWithAGun
Le groupe de doom métal traditionel français SURTR sortira son premier album « World of doom » le 2 mai [France, Royaume-Uni, Irlande] et le 29 avril [reste du monde].
SURTR, trio français, crée une sombre atmosphère de doom metal traditionnel sur leur premier album World Of Doom. Le groupe peint le morose tableau du mond, utilisant les […]
Lire l'article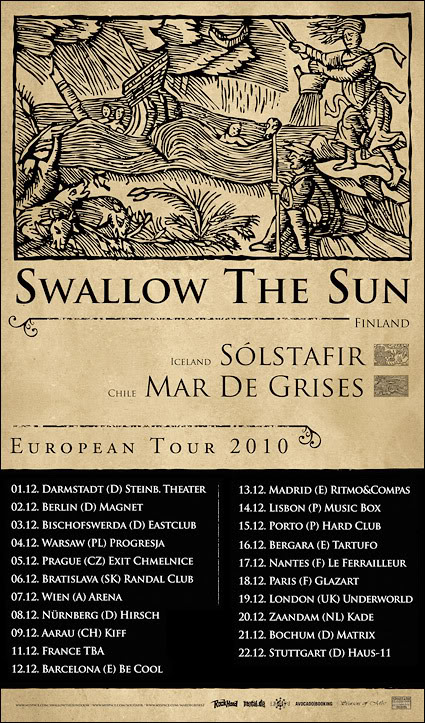 Mar De Grises, Solstafir et Swallow The Sun….. les 3 démons du Doom de l'écurie Season Of Mist étaient de passage à Paris …
Une reportage de juliA photosynthese …
Lire l'article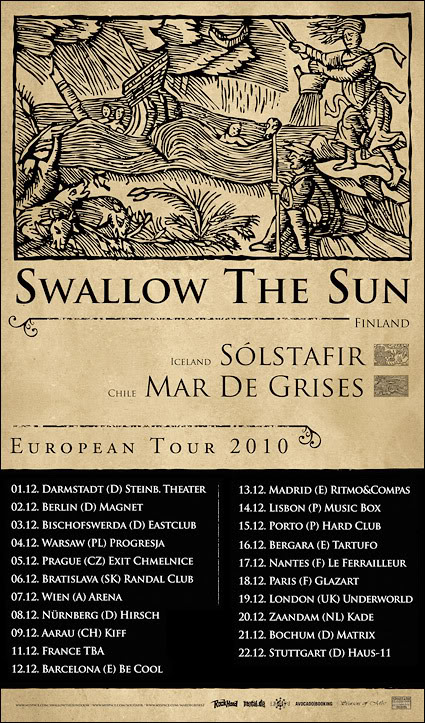 Un bon report sans une belle galerie ne serait pas digne de nous !!
Les photos de Julia sont ici.
Lire l'article
18 décembre 2010
par Fredo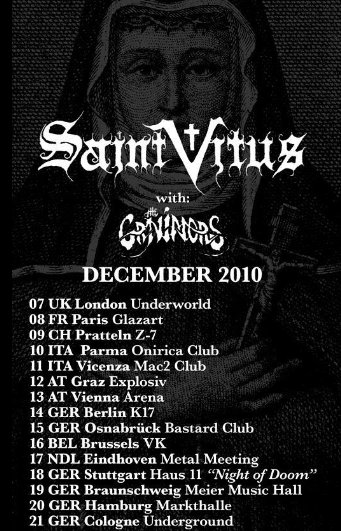 Julia, aprés Cathedral, continue son voyage au tréfonds du Doom. Paris était sous la neige, et elle, elle était au chaud au Glazart.
Lire l'article
18 décembre 2010
par Fredo
11 décembre 2010
par Dada metal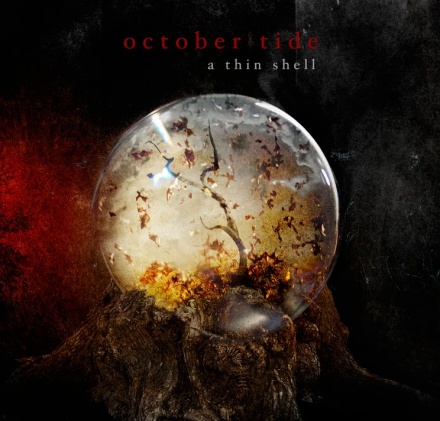 Note du soilchroniqueur (Dada Metal) : 07/10
Il y a t'il une lumière au bout du couloir ? Des anges dénudés galopent-ils dans un paradis imaginé par Jérome Bosch ? Satan attend-il les morts armé de sa fourche et des plus terribles vices dont lui seul a le secret ? Si le coma est un aperçu de l'au delà, alors October Tide peut sûrement répondre à quelques unes de ces questions. Après un split annoncé et une longue absence, le groupe revient avec A Thin Shell. Un album bien vivant (enfin).
Lire l'article