Le 3 décembre 2021 posté par Metalfreak
Line-up sur cet Album
Carl Canedy – Batterie, Choeurs
Garry Bordonaro – Chant, Basse
David "Rock" Feinstein – Guitares, Choeurs
Style:
Hard Rock / Heavy Metal

Date de sortie:
03 décembre 2021

Label:
High Roller Records (réédition)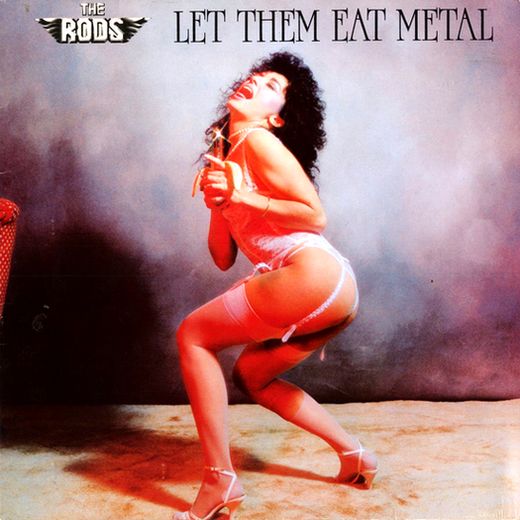 Note du SoilChroniqueur (Metalfreak) : 8/10
On n'aura pas attendu longtemps entre le live ("Live") de décembre 1983 qui m'avait fait découvrir et aimer The Rods à l'époque et ce "Let Them Eat Metal" à l'artwork qui attirait de suite l'œil et à le scandale (le PMRC, en ce temps, n'aimait pas trop qu'on le titille vers le dessous de la ceinture).
Toujours sous la forme de trio avec les deux membres originels que sont Carl Canedy et David Feinstein, accompagnés du bassiste / chanteur Garry Bordonaro arrivé juste après la sortie du premier album "Rock Hard" de 1980, The Rods continuait de nous distiller ce petit hard rock teinté de heavy metal qui pouvait regarder droit dans les yeux d'autres formations comme Quiet Riot, W.A.S.P. ou Twisted Sister.
D'aucuns diraient sans trop de contradictions que "Let Them Eat Metal" sorti en 1984, puis "Heavier Than Thou" deux ans plus tard, sont ce que le trio new-yorkais a composé de plus "commercial" mais il faut bien reconnaitre que la qualité était au rendez-vous tant les neuf titres de cet album sont autant de petites perles !
The Rods n'a pas hésité à jouer dans la cour de Manowar ("Rock Warriors") ou de Judas Priest (le rapide "White Lightning", "She's such a Bitch" et surtout "Bad Blood" qui rappellera rapidement "Breaking the Law") tout en gardant un bon côté AC/DC par moments ("I'm a Rocker"), Kiss ("Let Them Eat Metal", "She's so Tight") ou Magnum ("Nuclear Skies") pour cet album. Si ce "Let Them Eat Metal" manquait singulièrement de personnalité, cherchant trop à se rapprocher d'influences immédiatement identifiables, on ne peut nier une évidente capacité à composer des titres facilement mémorisables et rapidement addictifs, d'autant plus qu'ils jouent à fond sur le thème sex and rock 'n' roll, à l'image de sa pochette.
A peine plus d'une demi-heure, mais de grande qualité, dépoussiérée une nouvelle fois par l'inévitable maître es-remastering Patrick W. Engel.
Séance de rattrapage obligatoire !
Tracklist :
1. Let Them Eat Metal (3:52)
2. White Lightning (3:55)
3. Nuclear Skies (3:37)
4. Rock Warriors (3:22)
5. Bad Blood (3:08)
6. She's So Tight (3:04)
7. Got the Fire Burnin' (2:34)
8. I'm a Rocker (3:25)
9. She's Such a Bitch (2:27)
Site officiel
Facebook
ReverbNation
Myspace
YouTube
Chronique "Wild dogs"
Chronique "Brotherhood of metal"
Retour en début de page