Le 7 avril 2021 posté par Metalfreak
Line-up sur cet Album

Dave Sanchez - Basse / Jesus Decay - Guitares / Yolo - Guitares / Steven Villa - Chant. Guest : Trevor William Church – Batterie.
Style:
Heavy / Speed metal

Date de sortie:
1er janvier 2021 (digital et cassette) / 1er février 2021 (CD)

Label:
Autoproduction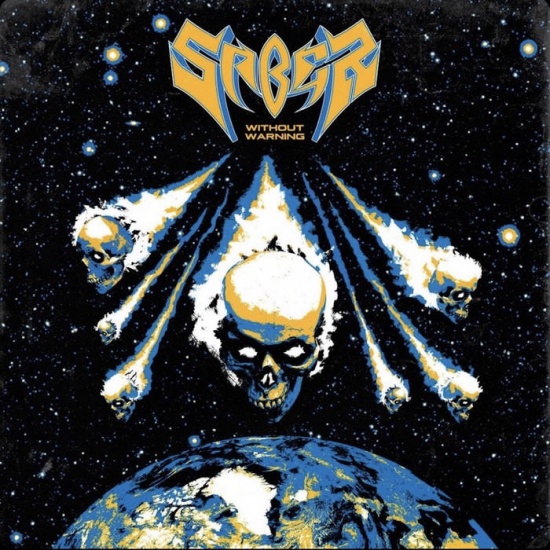 Note du SoilChroniqueur (Metalfreak) : 8/10
Décidément, plus le temps passe, plus on se retrouve avec des groupes qui redescendent au plus profond des racines old school du heavy metal !
Clairement, le temps s'est arrêté dans la première moitié des années 80 pour les Californiens de Saber tant leur musique fleure bon cette époque bénie lors de laquelle tout a commencé !
Si nous n'avons pas d'informations sur l'année de formation du groupe, on sait qu'il a sorti un premier single "Speed racer" en 2019, un EP de deux titres Strike of the witch en 2020 et enfin ce premier album pour le nouvel an 2021 (en digital et en cassette, puis le 1er février 2021 en CD), le tout en autoproduction.
On notera tout de même que le single se retrouve sur l'EP et que les deux titres de l'EP se retrouvent sur l'album.
Et en seulement huit titres, Saber montre une sacrée maturité dans le old school de son heavy / speed metal et le tout hume aussi bien l'urgence que l'envie de produire des composition pour le moins carrées.
Du riff en veux tu en voilà avec souvent des guitares doubles à la Iron Maiden de la première époque, un chant suraigu qui défierait presque les lois de l'ultrason, et une basse qui cavale comme si sa vie en dépendait.
Et l'ensemble est tout ce qu'il y a de plus cohérent : si ce Without warning fût sorti en 1984 entre Fistful of metal, Defenders of the faith, Violence and force ou All Hail to thee, personne n'aurait trouvé ça scandaleux !
Loin de là !
Saber nous distille du riff rapide sur huit titres à la fluidité remarquable qui nous fait prendre conscience qu'une petite demi heure est définitivement trop courte lorsque la musique est d'une telle qualité !
Ce bon compromis entre NWOBHM et speed metal à l'allemande risque fort de faire chavirer les plus puristes du heavy metal à l'ancienne.
Bref, si on est accro à Riot City, Haunt, Blade Killer ou White Wizzard, l'achat devient indispensable !
Tracklist :
1. Storm of Steel (3:59)
2. Without Warning (4:16)
3. Midnight Rider (4:35)
4. Strike of the Witch (3:43)
5. Outlaw (3:46)
6. Leather Laced Lady (2:35)
7. We'll Meet Again (2:46)
8. Speed Racer (3:36)
Retour en début de page