Le 2 septembre 2011 posté par Metalfreak
Line-up sur cet Album

Jean Noël Bonnaillie – Guitar & sonic and visual manipulations Nim – Mastering
Style:
Harsch indus / Metal / Drum n bass

Date de sortie:
2011

Label:
Auto Production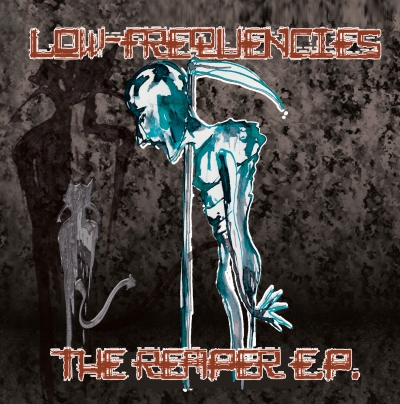 Note du Soilchroniqueur (Metalfreak) : 7/10
Deuxième méfait épileptique pour ces frappadingues harsch industriels ne jurant que par les sonorités industrielles, hyper saturées à outrance, poussant vos oreilles dans vos derniers retranchements.
Autant mettre de suite les barrières, les metalleux les moins ouverts s'entredévoreront les oreilles à l'écoute de cette déflagration sonore et force est de constater qu'il faut avoir une sacrée ouverture d'esprit niveau musique pour s'envoyer les six titres de cet EP ne durant cette fois ci que seize minutes.
Largement assez pour les réfractaires, trop court pour les autres tant « The reaper » reprend les choses à où « The Styx » les avait laissées.
Lorsque j'avais chroniqué ce dernier, j'avais mis en évidence le fait que la musique proposée est un voyage cauchemardesque dans les tréfonds des basses, des saturations outrancières et de la froideur de l'industriel le plus malsain.
Rien n'a vraiment changé entre temps, si ce ne sont quelques petites évolutions dans les rythmes et une recherche sonore plus aboutie.
Les fans de groupes metal indus pourront y retrouver leur compte de par certains sons proposés… mais tout ceci est extrêmement chaotique et c'est bien ce que recherchent JN et Nim dans leur approche.
Tout ceci pour nous prouver par A+B qu'il n'est pas nécessaire de blaster à tire-larigot sous fond de growls surpuissant pour donner une idée de ce que peuvent le chaos et l'ultra violence.
Et qu'est ce que c'est bon !
En un mot, apocalyptique !
Tracklist :
1 Prepare to die
2 Chaos and confusion
3 Feel the fire
4 Music is a distortion coming from deep inside
5 Sounds like a threat
6 Evil electronica
Site officiel : http://low-frequencies.net/
Retour en début de page