Le 12 octobre 2021 posté par Metalfreak
Line-up sur cet Album

Walter Hernandez – Guitares / Gustavo Acosta – Basse / Emiliano Wachs – Batterie / Sven D'Anna – Chant / David Shankle – Guitares. Guests : Ross the Boss – Guitares sur 1 / Julio Awad – Piano sur 2 / Diana Boncheva – Violon sur 2 / Eric Marullo – Guitares, Chant sur 3.
Style:
Power Metal

Date de sortie:
30 septembre 2021

Label:
Massacre Records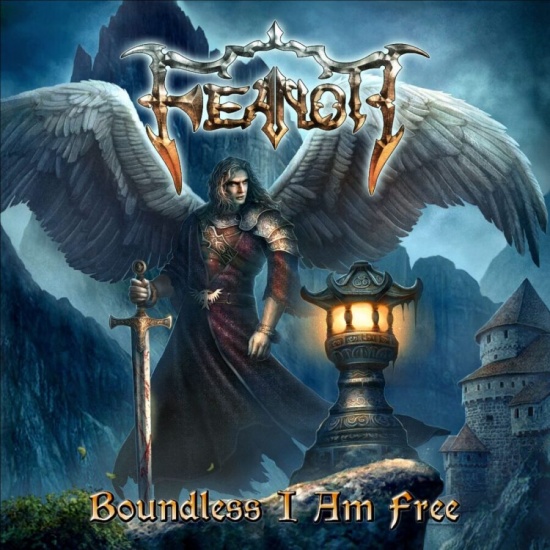 Note du SoilChroniqueur (Metalfreak) : 8/10
Dire que le dernier album en date des Argentins de Feanor a été l'un de mes coups de cœur relève de l'euphémisme tant le power metal du quintet m'a donné la sensation, comme écrit en conclusion de chronique, d'avoir sorti l'album de Manowar que je n'osais plus espérer. Maintenant, de considérer que Feanor n'est qu'une pale copie des autoproclamés "Kings of metal" serait malgré tout réducteur malgré une affiliation assumée.
C'est donc avec un plaisir certain que cet EP est accueilli par votre serviteur comme un petit supplément de bonheur auditif. Certes, pas de quoi se relever la nuit, cet EP est l'occasion de nous proposer quatre titres inédits.
Déjà, le titre "Boundless I am Free" a été composé par Gustavo Acosta à la mémoire de son père lors d'une tournée avec Ross The Boss : c'est tout naturellement que ce dernier a eu l'amitié d'enregistrer toutes les guitares de ce titre épique, très Manowar dans l'âme. Et comme un plaisir n'arrive jamais seul, ce même titre se voit enregistré dans une deuxième version, totalement acoustique, avec seul un violon et un piano accompagnant le chant superbement mis en évidence dans cette version très touchante.
Les accointances entre Feanor et Manowar étant très fortes, le groupe nous offre un nouvel inédit, "I have a Fever", chanté par Eric Marullo, qui n'est autre que le fils d'Eric Adams, digne rejeton de son warrior de paternel !
Enfin, en guise de dessert, un instrumental, "The Scorpion Stings in Am", met en évidence le talent de Walter Hernandez, capable d'insérer du flamenco dans son jeu néo-classique. Du grand art !
Pour le coup, cet EP, à l'excellent artwork signé une nouvelle fois du Serbe Dušan Marković (Sorcerer, Thor, Dragony…), est loin d'être dispensable et se veut être un excellent complément à "Power of the Chosen One".
Tracklist :
1. Boundless I Am Free (4:21)
2. Boundless I Am Free (Acoustic Version) (4:21)
3. I Have a Fever (3:58)
4. The Scorpion Stings in Am (Instrumental) (2:29)
BandCamp  Facebook  Site web  Instagram
Myspace  Spotify  Twitter  Youtube
Chronique "Power of the chosen one"
Retour en début de page