Le 3 décembre 2021 posté par Metalfreak
Line-up sur cet Album
Marcus Klack – Guitares
Erik Wallin – Guitares
Erik Sahlström – Chant
Lars Henriksson – Basse
Erik Qvick – Batterie, Guitares
Style:
Death Metal

Date de sortie:
03 décembre 2021

Label:
Pulverised Records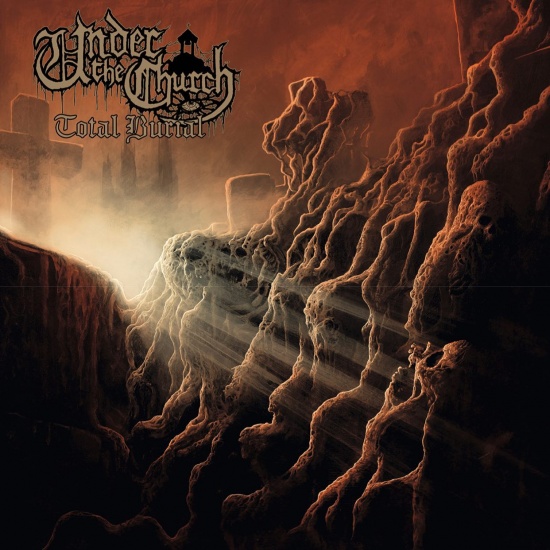 Note du SoilChroniqueur (Metalfreak) : 8/10
Actif depuis 2012, le quintet Islando-Suédois Under The Church nous a déjà envoyé pleine face, avant ce nouvel EP "Total Burial", un premier EP-onyme (2014), deux albums en 2015 ("Rabid Armageddon") et 2017 ("Supernatural Punishment"), un live ("Horrors from the Tomb" en 2017) et un split album avec Revel In Flesh (2017 encore) sur lequel il reprend un titre de Razor ("Evil invaders").
Toujours articulé autour des guitaristes de Trash Amigos, Marcus Klack et Erik Wallin, du chanteur de General Surgery Eri k Sahlström (également ex-Serpent Obscene, ex-The Marble Icon, ex-Crucifyre, ex-Deceiver, ex-Maze of Torment) et de l'ancienne section rythmique de Nirvana 2002 avec Lars Henriksson (basse) et Erik Qvick (batterie), Under The Church continue de nous abreuver d'un death metal old school typique de la scène suédoise.
C'est avec un chant proche de David Vincent sous une légère réverb', d'un riff thrashy et bien énervé, d'un tempo souvent soutenu et d'une ambiance malsaine que ces cinq courts titres s'égrènent, nous proposant (seulement) un quart d'heure qui nous maintient sous pression du début à la fin, agrémenté de quelques solis bien percutants laissant poindre de belles mélodies. On les ressent comme apportant un peu de clarté au milieu de ténèbres opaques.
Lourde et puissante, la musique d'Under The Church est purement dévastatrice et offre son lot de passage aussi oppressant que destructeur.
Et c'est en écoutant cet EP qu'on se dit que quinze minutes, ça passe vraiment trop vite. Vivement le prochain album !
Tracklist :
1. Day Of Reckoning (3:25)
2. Spit On Your Grave (3:21)
3. Total Burial (2:53)
4. Depraved Vocation (2:39)
5. Just Another Death (2:56)
Retour en début de page