Le 3 décembre 2021 posté par Metalfreak
Line-up sur cet Album
Richard Cabeza - Basse
Jojje Bohlin - Guitares
Jonas Derouche – Guitare
Anders Schultz - Batterie
Micke Broberg - Chant
Style:
Black / Death Metal

Date de sortie:
03 décembre 2021

Label:
Century Media Records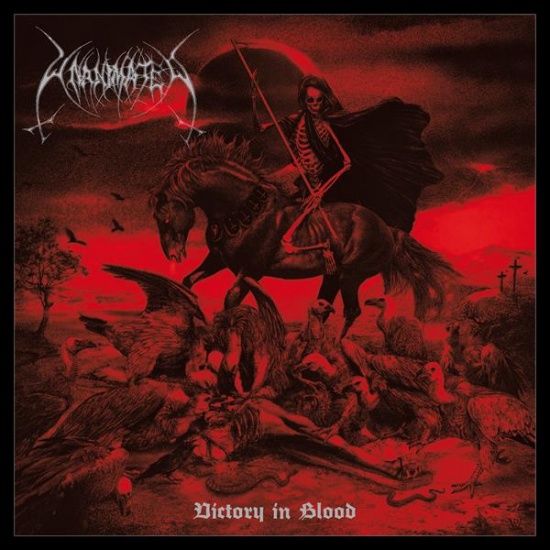 Note du SoilChroniqueur (M.L.A.M.) : 8/10
Le retour des suédois qui nous sort donc son quatrième album quasiment douze ans après « In the light of darkness » et trois ans après l'EP « Annihilation » qui remonte à 2018.
Unanimated est donc le projet secondaire de Richard Cabeza, le bassiste de Dismember et, sur cet album, on retrouve donc deux nouveaux membres, loin d'être des inconnus.
Nous avons donc Anders Schultz, le batteur d'Unleashed, qui a rejoint le groupe en 2011 en remplacement de Peter Stjärnvind (NDLR : qui est aussi chez Merciless).
Le deuxième nouveau membre n'est autre que le bassiste Johann Bohlin qui a également joué également chez les suédois de Desultory.
On a l'impression dès le premier morceau « Victory in blood » de se retrouver à la bonne époque du cultissime « In the the forest of the dreaming dead », qui reste l' un des meilleurs opus du black / Death metal suédois jamais sorti…
La nouvelle cuvée nous laisse penser que le temps s'est arrêté en 1993 et qu'on retrouve tous les ingrédients caractéristiques du style proposé ici avec toutefois une production largement au-dessus.
On retrouve pas mal de morceaux qui cartonnent bien : « Seventh mouths of madness », « The devil rides out », « Demon pact », « Divine hunger »…
On peut trouver aussi des morceaux plus courts qui font un peu office d'intermède : « With a cold embrace », « Chaos ascends ».
L'ensemble tient bien la route et fera plaisir au fans de Dissection, marduk (période dark endless), Sacrementum, Cardinal sin.
La pochette correspond bien au contenu et la production est excellent.
Au moins, Unanimated n'a pas suivi les groupes suédois qui marche bien actuellement comme Amon amarth ou In flames et est resté fidèle a son style d'origine.
Un bon album qui fait plaisir et n'espérons pas qu'on a attendra dix ans pour le prochain.
Tracklist :
1. Victory in Blood 3:56
2. Seven Mouths of Madness 3:30
3. As the Night Takes us 4:14
4. The Devil Rides Out 3:13
5. With a Cold Embrace 1:08
6. Demon Pact (Mysterium Tremendum) 5:29
7. XIII 6:12
8. Scepter of Vengeance 3:58
9. Chaos Ascends 2:00
10. The Golden Dawn of Murder 4:20
11. Divine Hunger 2:05
12. The Poetry of the Scared Earth 6:58
Retour en début de page