Le 14 mai 2022 posté par Metalfreak
Line-up sur cet Album

Robert Erickson – Batterie / Dregen – Guitares / Anders Lindström – Claviers / Nicke Andersson – Guitares, Chant / Dolf de Borst – Basse.
Style:
Garage rock

Date de sortie:
1er avril 2022

Label:
Nuclear Blast Records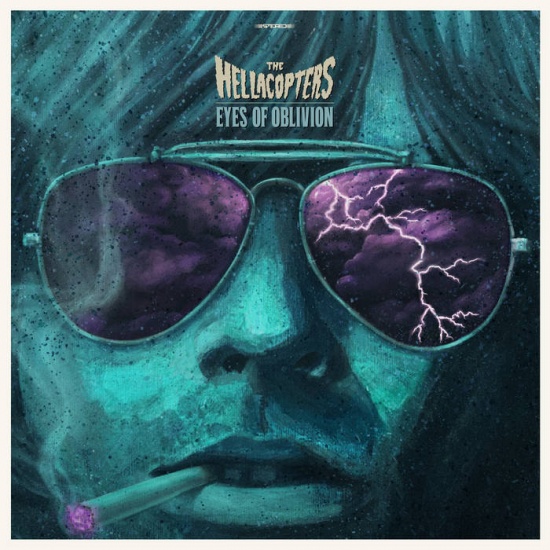 Note du SoilChroniqueur (Olivier No Limit) : 7/10
Cela faisait un bail que The Hellacopters n'avait pas conçu d'album, en fait depuis 2008 avec « Head Off ». Erreur réparée avec ce « Eyes Of Oblivion » qui vaut son pesant de refrains que l'on retient de suite.
Avec Dreggen de retour aux guitares et Andersson à la composition, cette nouvelle offrande sent le vintage et le rock garage.
Alors, ok, le son est plus polissé, mais les titres proposés sont agréables, chargés d'une douce nostalgie, celle d'une époque plus légère que celle que nous vivons actuellement et cela fait du bien à l'âme.
« Reap a Hurricane » et « Can It Wait », qui ouvrent l'album, sentent bon le rock n'roll des 70 '80'. Le blues « Eyes of Oblivion » est une petite réussite old school qui aurait bien plu à une certaine Janis Joplin. Bon riffing pour « A Plow and a Doctor », chargé d'un parfum d'antan et « Positively Not Knowing », peut rappeler, de loin, un early Alice Cooper. Avec « Beguiled », on ne tombe pas loin d'un glam rock vintage. Quant à « Tin Foil Soldier » ou « Try Me Tonight » chargé d'un parfum nostalgique et positif, on s'y accroche de suite.
Alors, il est à noter que le son de leur rock est moins rugueux, moins garage qu'aux premiers temps, seulement voilà, Andersson s'avère être un compositeur talentueux qui respire sa musique et sait nous transmettre sa flagrance agréable. Des titres sans ambages, qui vous vont droit à l'âme.
On écoute cet album comme si on buvait une boisson légèrement alcoolisée, nantie de solos rock n' roll, d'un chant reconnaissable de suite.
La nomenclature des morceaux est construite de manière simple mais efficace et leurs airs positifs passent dans nos oreilles avec un aspect rafraîchissant.
Sympa !
Maintenant, attendons la suite.
Tracklist :
1. Reap A Hurricane (3:15)
2. Can It Wait (1:59)
3. So Sorry I Could Die (4:21)
4. Eyes Of Oblivion (3:59)
5. A Plow And A Doctor (3:22)
6. Positively Not Knowing (3:50)
7. Tin Foil Soldier (2:57)
8. Beguiled (2:36)
9. The Pressure's On (4:10)
10. Try Me Tonight (4:00)
Bonus sur la box deluxe édition 2CD :
– Eleanor Rigby (reprise The Beatles)
– Circus (reprise String Driven Thing)
– I Am the Hunted (reprise GBH)
– I Ain't No Miracle Worker (reprise The Brogues)
Retour en début de page