Le 7 avril 2021 posté par Metalfreak
Line-up sur cet Album

Jay R – Chant / Laggy – Guitares / Stacii Blake – Basse / Dan "Sharkz" Weldon – Batterie.
Style:
Sleaze

Date de sortie:
30 mars 2021

Label:
Sliptrick Records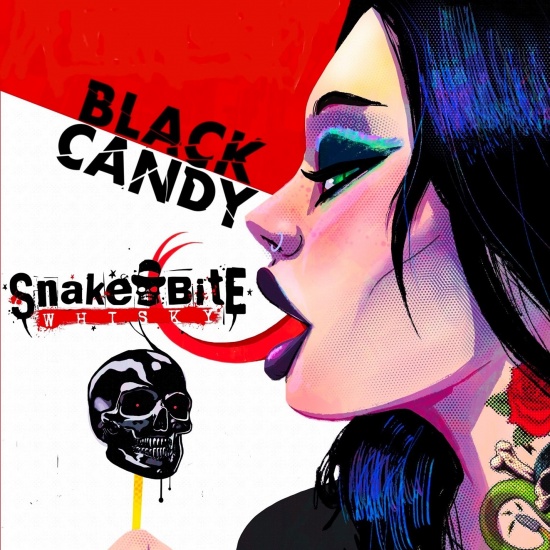 Note du SoilChroniqueur (Metalfreak) : 9/10
Ils font la musique qu'ils aiment et s'en branlent à s'en fissurer les poignets du reste. Du moins, à l'écoute de ce deuxième album "Black Candy" de Snake Bite Whisky deux ans après un "This Side of Hell" sorti chez Pavement Entertainment et déjà bien accueilli, lui-même précédé de deux EP ("Two Steps to Oblivion" en 2015 et "Dirty" en 2016), c'est l'impression que ça donne !
Faire un maximum de bruit aux relents sleaze, rock, punk et metal, le tout avec une attitude très sex, drugs and rock 'n' roll, ça semble être le leitmotiv du quatuor de Brisbane (Australie, pour ceux qui ne suivent pas). Imagine : tu as Motörhead qui croise dans un coin de rue Guns 'n' Roses, Backyard Babies et Sex Pistols, ça te donne une idée de la musique proposée. Et ça ne fait pas dans le détail : toute la décadence du rock 'n' roll semble se résumer dans les dix titres de ce "Black Candy" qui nous déverse à la figure toute son envie de vivre libre ! Et bordel que ça fait du bien !
Si on recherche du gros riff qui tâche, de la basse qui claque lourdement, du chant éraillé et vindicatif typique qui a tout retenu du petit keupon illustré, de la batterie qui frappe fort, de la distorsion à ne pas en finir, du couplet / refrain à gueuler à tue-tête après une seule écoute et du solo furieux, on a tapé à la bonne adresse !
Des concessions ? Y a pas !
De l'énergie ? Y a que ça !
Et en plus, elle est communicative… L'envie de secouer la tête et lever le poing pointe dès les premières secondes de "Thunderbird" pour ne plus nous lâcher même une fois que les dernières notes de "End of the line" se sont tues… Bref, dix titres bien distincts qui privilégient l'essentiel et l'efficacité : une telle tornade ne peut décemment pas laisser indiffèrent.
En clair et en résumé : Snake Bite Whisky nous offre un putain de moment de rock 'n' roll, et cet album est à prendre comme tel, ni plus, ni moins !
Tracklist :
01. Thunderbird (2:28)
02. Raised In Hell (3:48)
03. Creep Show (3:43)
04. Choke (3:41)
05. Bones In The Fire (5:05)
06. Reload, Aim, Kill (3:53)
07. Sweet Cocaine (3:18)
08. Hammered (3:44)
09. Dead By Dawn (2:50)
10. End Of The Line (3:41)
Retour en début de page