Le 16 mai 2021 posté par Bloodybarbie
Line-up sur cet Album
Andrey Pilipenko : Basse, Chant
Sergey Liakh : Guitares, Chant
Pavel Lapkouski : Guitares
Paweł Nałęcki : Chant
Alexandr Novitski : Batterie
Style:
Lethal Scissor Records

Date de sortie:
30 mars 2021

Label:
Brutal Death Metal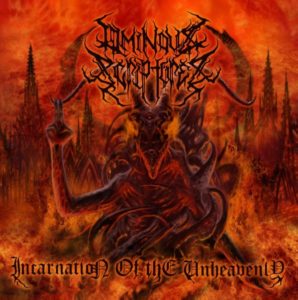 Note du SoilChroniqueur (Arno) : 7,5/10
J'avoue m'être un peu perdu en recherchant des informations sur Ominous Scriptures et cette réédition de « Incarnation of the Unheavenly » parce que sa pochette ressemble tellement à celle de « The Fall of the Celestial Throne« , sorti chez Willowtip Records, que j'y comprenais plus rien.
Mais la réédition dont il est ici question est bien celle du premier album des brutaux death metalleux de Minsk est, bordel de dieu, c'est du sévère !
Le groupe en soi n'est pas extraordinaire mais, d'une, c'est hyper brutal, de deux si ton truc c'est un groupe tel que Relics of Humanity, tu devrais forcément accrocher. Avec cette réédition des débuts de la formation, on plonge direct dans les méandres de l'underground plus que prometteur, celui qui met sa putain de technique au service de la violence gratuite, qui alterne sans vergogne les blasts et les ralentissements surpuissants, qui ne jure que par le chant guttural et qui se fout vraisemblablement d'avoir une quelconque reconnaissance en dehors de la niche musicale dans laquelle il couche.
Avec Ominous Scriptures vous avez la garantie d'acheter une valeur sûre et, pour ma part, j'avoue quand même une préférence pour « The Fall of the Celestial Throne » sorti en 2020. Il sonne plus mature, il est plus costaud dans ses structures et écrase littéralement tout espoir de mélodie.
Tracklist :
1. Incarnation of the Unheavenly (02:49)
2. Devouring the Moans (02:11)
3. Amongst the Inverted Icons (02:55)
4. Decapitate the Praying One (02:12)
5. The Corpses of Archangels in Bonfire (02:12)
6. Darkness (02:27)
7. The Fire Is the Last Who'll Read the Bible (01:54)
8. Centuries of Awe (08:32)
Retour en début de page