Le 3 novembre 2017 posté par Bloodybarbie
Line-up sur cet Album
Roxy Petrucci - Batterie
Maxine Petrucci - Guitares
Chris Doliber - Basse
Bret Kaiser - Chant
Style:
Heavy Metal

Date de sortie:
31 Octobre 2017

Label:
EMP Label Group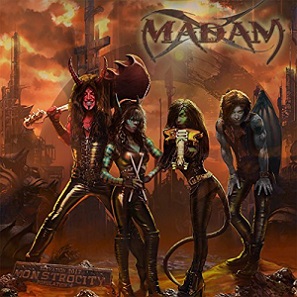 Note du SoilChroniqueur (Metalfreak) : 8/10
Enfin !!! Depuis leur reformation en 2014 avec le line up d'origine et un single dans la foulée, on avait hâte d'entendre ce qu'un album allait donner.
Groupe à la carrière éclair s'il en est avec un unique album en 1984 ("We reserve the Right"), puis un single "High in High School" (avec "Metal in my Veins" en face B) la même année, ce groupe qui a comporté dans son line up notamment un certain Sebastian Bach au chant (1986-1988) s'est vu splitter en 1988 avant une reformation rapide en 1991, puis disparaitre des écrans radar aussi sec. Formation devenue culte tant par la qualité de leur unique album que par la plastique des sœurs Petrucci, Madam X se reforme en 2014 pour un festival en Suède. En 2017, c'est lorsque les deux frangines s'associent à Mark Slaughter pour sortir un morceau hommage à Lemmy que les choses s'accélèrent et c'est à l'automne que sortira ce tant attendu nouvel album.
Et le moins que l'on puisse dire, c'est qu'on ne se fout pas de la gueule du monde, chez les Madam X : treize titres, un peu moins de 50 minutes mais du Hard Rock bien Heavy (ou l'inverse, au choix) bourré d'énergie et surtout rien à jeter ! Madam X revient en force 33 années après leur unique méfait : il y a un paquet de reformations qui n'ont pas un résultat aussi probant. Là, pour le coup, avec ce "Monstrocity", on nage dans le lourd : compositions qui font mouche dès la première écoute, production impeccable signée par le groupe et surtout mixée par un certain Michael Wagener (Metallica, Megadeth, Skid Row ou Ozzy Osbourne), le tout au service d'un album impeccable sur lequel rien n'est à jeter.
Madam X nous balance des titres bien variés et se la joue heavy bien racé comme le bien-nommé "Resurrection", "Monstrocity", "Nitrous" montrant lors de son intro que Bret Kaiser peut ne rien avoir à envier à Rob Halford, ou "The Rise" particulièrement lourd, ou alors plus hard rock conventionnel avec "Freak Parade", "Die trying", "Hello Cleveland", "Big Rock rolls heavy" au couplet rappelant celui du "You could be mine" des Guns n' Roses, "Detroit Black" proche d'Alice Cooper, le vitaminé "Good Stuff" au refrain imparable, la traditionnelle ballade "Wish you away", une version mise à jour du titre "High in High School" ou le final plus mystérieux – mais aussi plus dispensable – "Bride of Frankenstein".
Bref, plus de trente ans après leur unique album "We reserve the Right" et avec le line up d'origine, Madam X revient aux affaires d'une bien belle manière et nul doute que "Monstrocity" aura une belle place dans les albums sortis cette année.
Tracklist :
1. Resurrection (4'25)
2. Monstrocity (4'00)
3. Nitrous (3'47)
4. Freak Parade (3'24)
5. Die Trying (3'25)
6. Hello Cleveland (3'39)
7. Big Rock Rolls Heavy (2'46)
8. Detroit Black (3'11)
9. The Rise (4'40)
10. Good Stuff (3'02)
11. Wish You Away (4'27)
12. High In Highschool (3'48)
13. Bride of Frankenstein (3'26)
Site officiel : http://www.madam-x.org/
Facebook : https://www.facebook.com/MadamXofficial/
Retour en début de page