Communication de nos partenaires

Le 16 novembre 2013 posté par celtikwar
Line-up sur cet Album
Pep Casas – Guitares
Albert Gracia – Chant
Zappa – Basse
Ferran – Batterie
Style:
Speed / Thrash metal

Date de sortie:
Septembre 2013

Label:
Xtreem Music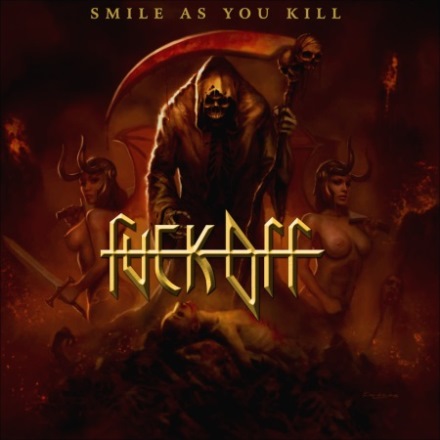 Note du Soilchroniqueur (MetalFreak): 7/10
Inutile de refaire l'historique de ce groupe culte de thrash de la péninsule Ibérique, toute la carrière des Barcelonais a été résumée lors de la chronique de « A different sacrifice 1987-1988 » écrite il y a un peu moins d'une année par votre serviteur icihttp://www.soilchronicles.fr/chroniques … -1987-1988 !
Fuck Off reste cantonné dans son thrash old school avec ce nouvel album « Smile as you kill » qui, s'il était sorti en 1985, n'aurait pas fait tâche, ce genre d'album étant signé à tour de bras par tous les labels à l'époque, la faute à un genre qui avait ses lettres de noblesse grâce aux sorties conjointes de toutes les scènes thrash allemande et américaine.
Troisième album pour ce groupe, 23 ans après le dernier si on occulte la compilation remastérisée l'an dernier, enregistré par Mr Dan Swanö himself, ça a du cachet.
Mais si on cherche une quelconque originalité dans cet album, on peut de suite oublier : le thrash de Fuck Off est on ne peut plus basique, avec des plans usés jusqu'au trognon, un chant ultra prévisible, des refrains qu'on connaît déjà (« We are back in town », recette usée jusqu'à la moelle), des solis efficaces cela dit.
Mais ne nous leurrons pas : « Smile as you kill » n'est pas un mauvais album, loin de là, il apporte même une certaine fraîcheur en matière de thrash old school : les neuf compositions sont bonnes, voire très bonnes, et permettent de passer un très bon moment avec ses 42 minutes au compteur.
« Azor » débute l'album avec une intro instrumentale bien heavy qui met en place l'album : c'est classique mais efficace. C'est après deux minutes que les rythmes s'accèlerent d'un seul coup en même temps que vient le chant. Riff à la « Agent orange » de Sodom avec un chant plus aigu qui rappellera celui de John Bonata (Thrust) mais avec des influences qu'on pourrait reconnaître chez des groupes de thrash de l'Europe de l'Est tels Wolf Spider, Kruiz ou Turbo.
Entre punk (« Gardens of stone », « Impera la Corrupción » ), breaks typiquement NWOBHM avec quelques passages bien lourds (« The priest ») et pur thrash old school (« Smile as you kill », « Azor » ), speed metal façon Ruthless époque « Discipline of steel » (« We are back in town », le réenregistrement de « People in war » tiré d'un single de 1988), l'album est un pur produit de bonne musique, qui ne révolutionnera rien du tout mais qui s'avère diablement efficace pour peu qu'on aime les compositions classiques au possible, mais parfaitement bien exécutées.
Et que dire de la reprise de « Long live rock 'n' roll » version speed metal sinon qu'elle est pour le moins surprenante à défaut d'être géniale mais qui prouve une fois de plus l'attachement du groupe à une époque pas si révolue que ça.
Clairement, ça ne cassera pas trois pattes à un canard mais ça fait plaisir à entendre pour peu qu'on soit un tantinet nostalgique de cette époque.
Et c'est bien là l'essentiel !
Myspace : http://www.myspace.com/pionerosdelthrash
Facebook : http://www.facebook.com/PionerosDelThrash
Facebook : http://www.facebook.com/grupo.fukkoff
"Azor"
Tracklist :
1. Azor
2. Doomed from the Cradle
3. Gardens of Stone
4. Smile as You Kill
5. The Priest
6. We Are Back in Town
7. Impera la Corrupción
8. People in War (2013 Version)
9. Long Live Rock & Roll (reprise Rainbow)
Retour en début de page