Le 17 septembre 2018 posté par Bloodybarbie
Line-up sur cet Album
Franz Romer - Guitares
Sandra Schumacher - Chant
Stefan Humbert - Batterie
Thomas Heyer - Guitares
Markus Wawersich - Basse
Style:
Heavy/Speed Metal

Date de sortie:
17 Septembre 2018

Label:
Dying Victims Productions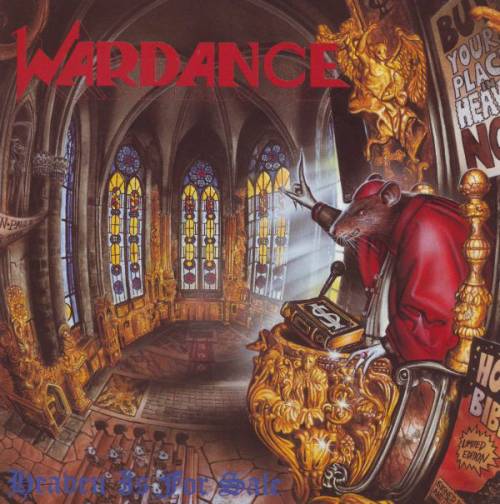 Note du SoilChroniqueur (Metalfreak) : 7,5/10
Un groupe de Heavy/Speed Metal au chant féminin… voilà qui va donner du Bonheur avec un grand B aux adorateurs de groupes comme les belges d'Acid, les Américains d'Original Sin, les Canadiens de Messiah Force (mais si, le groupe dont la chanteuse s'appelle… Lynn Renaud), les Chiliens de Demona ou les Allemands de Warlock.
D'ailleurs, Wardance est également allemand, avec une carrière pour le moins éphémère de 1984 à 1988 sous ne nom de Destroyer, puis jusqu'en 1995 sous le nom de Wardance : un EP en 1988 (Crucifixion), ce Heaven is for Sale (1990) avant de splitter en 1991 : ils referont une apparition en 1994 pour une dernière démo, Dance to the Beat of Life with the Spirit of Youth. En 1996, pour des raisons financières, le groupe jette définitivement l'éponge et depuis, plus de nouvelles, que ce soit du groupe ou de ses membres.
Et là, 28 ans plus tard, voilà Dying Victims Productions nous ressort l'album de dix titres.
Pour l'occasion, on a droit à sept bonus : les deux inédits de la version CD initiale ("Friday the 13th" et "Blues"), deux titres de Crucifixion ("Chonda's Dream" et "Killing Snow") et trois de Dance to the Beat… ("Megalomaniacs", "Wild Beauties" et "Die unendliche Geschichte").
En soi, l'idée de cette ressortie n'est pas inutile mais on sent que l'album a quand même bien vieilli. On a certes droit à un Heavy Metal souvent rapide, rappelant les groupes cités plus haut, avec une chanteuse au timbre pouvant rappeler Kate de Lombaerts (Acid) en parfois plus irritant sur certains titres. Et quelque part, l'album aurait suffi : les titres bonus sont relativement inutiles de par une qualité largement moindre aux dix morceaux de Heaven is for Sale : seul "Die unendliche Geschichte" sort son épingle du lot, ressemblant à une chanson traditionnelle teutonne version metal avec un refrain imparable.
Pour l'album, c'est autre chose. Là, on se régale et on comprend pourquoi il a été et est encore toujours aussi bien vu par les metalleux. Son Speed Metal qui aurait autant ravi les fans de Warlock que de Metallica fait mouche sur quasiment tous les titres et on se délecte, malgré une production restée très old school, à chaque instant. Que ce soit lors des titres speed ("Heaven is for sale", "Destroyer", "Neverending Nightmare", l'intense "Don't play with Fire", "Paris in Fear") ou plus heavy ("Believe", "Death Caress", ), la power ballad "I don't love you anymore" ou la reprise de The Animals ("House of the rising Sun", repris par notre Johnny Hallyday sous le titre "Les portes du pénitencier" par la suite) version speed metal sont autant de ravissements auditifs qui nous font nous demander le pourquoi d'une si petite longévité, surtout après un album aussi prometteur d'une vraie belle carrière…
Un album plus que sympathique à (re)découvrir ! Deutsche Qualität, qu'on vous dit !
Tracklist :
1. Heaven is for Sale (2:37)
2. Destroyer (3:46)
3. Believe (3:51)
4. Neverending Nightmare (3:43)
5. I don't love you anymore (6:18)
6. Overture (Instrumental) (0:55)
7. Don't play with Fire (3:36)
8. Death Caress (5:23)
9. Paris in Fear (3:51)
10. House of the rising Sun (reprise The Animals) (2:51)
11. Friday the 13th (5:46)
12. Blues (2:39)
13. Chonda's Dream (4:14)
14. Killing Snow (2:51)
15. Megalomaniacs (5:11)
16. Wild Beauties (5:11)
17. Die unendliche Geschichte (3:59)
Retour en début de page