Le 19 mars 2021 posté par Metalfreak
Line-up sur cet Album
Udo Dirkschneider : Chant
Andrey Smirnov : Guitares
Fabian Dee Dammers : Guitares
Tilen Hudrap : Basse
Sven Dirkschneider : Batterie
Style:
Heavy Metal

Date de sortie:
19 mars 2021

Label:
AFM Records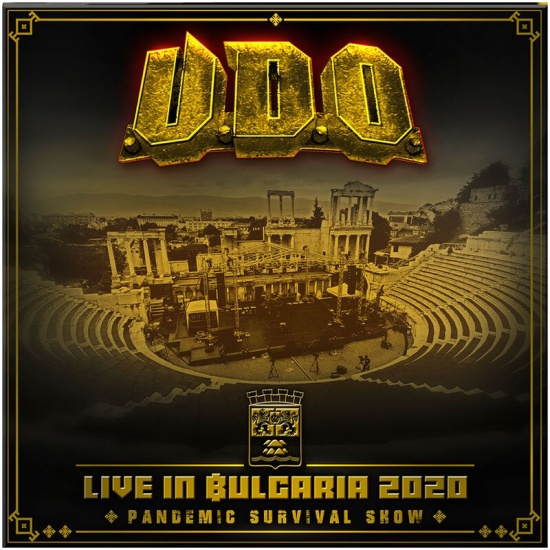 Note du SoilChroniqueur (Metalfreak) : 10/10
Quand on aime, on ne compte pas !
Certes, mais, l'air de rien, ce nouveau live d' UDO n'est rien de moins que le huitième concert que le groupe nous offre en CD, et on ne parlera pas des splits live sur le Wacken ou autres !
Bientôt, Papa Dirky va nous enregistrer plus de live que Frontiers Records nous en colle de Blüe Öyster Cult, c'est dire !
Ce n'est pas pour pinailler, mais je n'ai pas envie de devoir hypothéquer mon appartement pour m'offrir l'intégrale des albums studio et live d'Udo , nous n'avons qu'un salaire par mois, et tous un banquier avec une patience limitée.
Parce que bon, c'est bien beau tout ça mais si encore les live étaient mauvais…
Même pas !
U.D.O. fait dans la qualité, et supérieure s'il vous plait !
Tout plein de titres tirés de nombreux albums de la discographie du groupe, quatre bombes issues de la première vie du chanteur dans Accept : c'est sûr qu'on ne se lasse pas de l'intemporel "Princess of the Dawn" qui se voit étirée jusqu'à onze minutes, laissant au public le plaisir de chanter à l'envi le refrain, ni d'un "Metal Heart" d'anthologie sur lequel le guitariste se fend d'un solo de folie, d'un "Fast as a Shark" explosif comme à son habitude, d'un "Balls to the Wall" toujours aussi addictif ou d'un plus rare "Midnight Mover" qui fait toujours autant de bien à écouter !
Pour la setlist, ce sont trois titres de Animal House (1987), un de Timebomb (1991), un de Solid (1997), un de Man and Machine (2002), deux de Mastercutor (2007), un de Rev-raptor (2011), un de Steelhammer (2013) et pas moins de six titres de Steelfactory (2018), promotion du dernier album en date oblige. En revanche, rien de Mean Machine (1989), Faceless World (1990), No Limits (1998), Holy (1999), Thunderball (2004), Mission n°.X (2005), Dominator (2009) ni de Decadent (2015).
C'est ça quand on sort album sur album, on n'a plus la place de mettre des titres de toutes la panoplie du groupe : ce sera peut être le cas pour un prochain live, en 2023 ou 2024… (second degré inside !)
Et entre toutes ces petites gâteries, on se prend un instrumental par ci, un solo par là (batterie, puis basse enchainés) histoire de faire souffler l'hurleur en chef qui fête royalement ses 68 ans et toujours en forme !
Certes, les plus grosses gueulantes font partie du passé mais il a toujours son chant si caractéristique, capable de grogner encore bien méchamment lors des titres bien heavy voire speed, et de le moduler pour en devenir touchant sur les compositions plus calmes ("Rose in the Desert", "I Gave as Good as I Get", l'émouvant "In the Darkness", "One Heart one Soul").
Bref, un live sublime, enregistré lors d'un rare concert de 2020 qui se veut d'ores et déjà indispensable pour tout fan de pur heavy metal !
Tracklist :
CD 1 :
1. Tongue Reaper (4:35) (« Steelfactory » 2018)
2. Make the Move (4:33) (« Steelfactory » 2018)
3. Midnight Mover (reprise Accept) (4:32)
4. Wrong Side of Midnight (4:28) (« Mastercutor » 2007)
5. Metal Machine (4:53) (« Steelhammer » 2013)
6. Independence Day (7:22) (« Solid » 1997)
7. Rose in the Desert (6:16) (« Steelfactory » 2018)
8. Vendetta (4:46) (« Mastercutor » 2007)
9. Rising High (4:04) (« Steelfactory » 2018)
10. Prologue : The Great Unknown (instrumental) (2:23)
11. In the Darkness (4:57) (« Animal house » 1987)
12. I Give as Good as I Get (4:59) (« Rev-raptor » 2011)
13. Princess of the Dawn (reprise Accept) (11:28)
CD 2 :
1. Timebomb (5:13) (« Timebomb » 1991)
2. Drum Solo (instrumental) (4:10)
3. Bass Solo (instrumental) (3:41)
4. Hungry and Angry (4:21) (« Steelfactory » 2018)
5. One Heart One Soul (6:22) (« Steelfactory » 2018)
6. Man and Machine (6:48) (« Man and machine » 2002)
7. Animal House (4:46) (« Animal house » 1987)
8. They Want War (5:22) (« Animal house » 1987)
9. Metal Heart (reprise Accept) (11:01)
10. Fast as a Shark (reprise Accept) (5:26)
11. Balls to the Wall (reprise Accept) (10:41)
12. Outro (Stillness of Time) (instrumental) (1:09)
Facebook  Site officiel  Instagram  Myspace
ReverbNation  Spotify  Twitter  YouTube
Chronique "Dominator"
Chronique "Mastercutor"
Chronique "Leatherhead"
Chronique "Rev-raptor"
Chronique "Celebrator"
Chronique "Steelhammer – live from Moscow"
Chronique "Decadent"
Chronique "Navy metal night"
Chronique Dirkschneider "Live – back to the roots"
Chronique "Steelfactory"
Chronique UDO and the Musikkorps der Bundeswehr "We are one"
Retour en début de page