Le 20 novembre 2022 posté par Metalfreak
Line-up sur cet Album
D. K. Skeletor – Basse
Jack Hellfire – Guitares, Chant
Der Sadomeister – Batterie
Nick Satan – Guitares
Style:
Black / Thrash Metal

Date de sortie:
22 octobre 2022

Label:
The Ritual Productions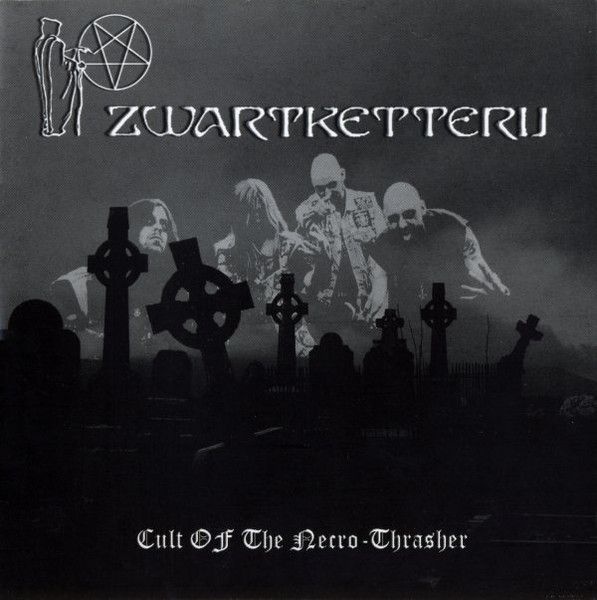 Note du SoilChroniqueur (Metalfreak) : 7,5/10
Zwartketterij (ou "hérésie noire" en néerlandais) est un groupe du Brabant Nord qui était actif entre 1999 et 2008, puis entre 2012 et 2014 et reformé cette année.
Deux albums ont vu le jour : "Sodomizer Dirty Sodomizer" en 2005 et celui-ci en 2007, ressorti chez The Ritual Productions cet automne.
Aujourd'hui articulé autour de deux membres originels que sont le guitariste Johnny "Jack Hellfire" Hällström (Grimm, The Spirit Cabinet, ex-Gauhaert, ex-Hooded Priest) et anciennement le batteur et désormais bassiste Erich "Der Sadomeister" Vilsmeier (Cirith Gorgor, The Spirit Cabinet, Lux Haeretica, ex-Grimm, ex-Walpurgisnacht) auxquels se sont rajoutés à la reformation le bassiste Willem "Dity sodomizer" Niemarkt (The Spirit Cabinet, Urfaust, ex-Gauhaert, Meth Assassin, ex-Grimm) et le batteur Quornelius "Captain Qunnilingus" Backus (Hooded Priest, Inverted Cross, Sator Malus, The Spirit Cabinet, Blackleaf), Zwartketterij semble avoir décidé de se refaire une nouvelle santé et on peut espérer que la ressortie de ce deuxième album n'en est que l'apéritif !
En 2007, année de sortie de ce "Cult of the Necro-Thrasher", si Jack Hellfire était aux guitares et au chant, Der Sadomeister était derrière les fûts et le bassiste Koen "D.K. Skeletor" Vanassche (Dark Ages, Shocker, ex-Gae Bolga, ex-Waelcyrge, ex-Wapenspraak & Drinkgelag, ex-Demonizer, ex-Huldrefolk) ainsi que le guitariste Niklas "Nick Satan" Szàtan (Hypochondria, ex-Waelcyrge, ex-Wapenspraak & Drinkgelag, ex-Grimm, ex-Hooded Priest, ex-Theudho, ex-Gae Bolga) complétaient le line up !
Au programme : un Thrash / Black Metal déjanté, puissant et rapide auquel le groupe n'hésite pas à rajouter du bon vieil Heavy Metal.
Parce que, chez les Zwartketterji, on aime bien mélanger les genres, on se retrouve tant face à du Thrash Metal aux riffs très Slayeriens qu'à une attitude bien keuponne dans l'âme, avec un chant qui lorgne tant chez un certain Mille Petrozza sous amphétamines que dans les cris stridents à la façon d'un John Gallagher (Raven) en mode hystérique.
C'est que là, on tient un petit chaînon manquant entre Kreator, Slayer, Judas Priest, Sarcoma Inc. et Aura Noir. Ca donne une idée de la largeur de la palette de ces musiciens bien aguerris.
C'est furieux, ça ne s'embarrasse pas de superflu, ça colle des accélérations à rester broyé dans le siège arrière et surtout, ça rend hommage à la deuxième partie des années 80 avec une aisance qui frôle l'insolence.
Tout n'est pas parfait mais c'est d'une putain d'efficacité, souvent avec la carte de l'humour…
Belle initiative de la part de The Ritual Productions que de remettre ce petit brûlot dans les bacs !
Tracklist :
1. Cry of the Jackal Child (4:42)
2. Cult of the Necro-Yhrasher (4:00)
3. Macedonian Horror Cries (4:53)
4. Carnival, Death, Demons (4:09)
5. Lick My Chainsaw, Bitch ! (4:32)
6. Heavy Metal, Raise Hell ! (4:15)
7. Hammer of Hardrock (instrumental) (5:11)
8. Titans of Torment 666 (5:26)
Retour en début de page