Le 24 janvier 2021 posté par Metalfreak
Line-up sur cet Album

Alex Beyrodt - Guitares, Choeurs / David Readman - Chant / Mat Sinner - Basse, Choeurs / Markus Kullmann - Batterie. Guests : Corvin Bahn - Claviers / Melissa Bonny - Choeurs.
Style:
Hard rock

Date de sortie:
15 janvier 2021

Label:
AFM Records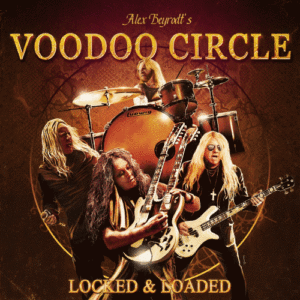 Note du SoilChroniqueur (Metalfreak) : 9/10
Il est des retours qui font plaisir !
Voir, et surtout entendre, à nouveau David Readman derrière le micro de Voodoo Circle est un pur régal.
Si l'album précédent Raised on Rock a été enregistré avec le pourtant excellent Herbie Langhans (Beyond The Bridge, Firewind, Radiant, The Lightbringer Of Sweden, Whispers In Crimson, ex-Sinbreed, ex-Seventh Avenue entre autres quelques participations chez Avantasia, Kamelot, Rhapsody Of Fire ou Mob Rules), on ne peut qu' apprécier de réentendre le père David dans le groupe avec lequel il a enregistré les quatre premiers albums.
Et ce n'est pas faire offense à Herbie Langhans que d'affirmer que le timbre – à croiser entre ceux de Robert Plant et de David Coverdale – colle à la perfection à la musique de Voodoo Circle qui, définitivement, est totalement infoutu de sortir un mauvais album.
Et c'est ainsi que c'est avec son compère de toujours Matthias "Mat Sinner" Lasch et complice dans de nombreuses formations (Primal Fear, Silent Force, Sinner pour ne parler que des groupes dans lesquels ils ont joué ensemble) qu' Alex Beyrodt continue la route de Voodoo Circle.
Avec en prime le batteur Markus Kullmann (Sinner, Moby Dick, Hartmann, ex-Dezperadoz…) additionnés à deux artistes de sessions que sont Corvin Bahn (Crystal Breed, Perpetual, Sascha Paeth's Master Of Ceremony) aux claviers et Melissa Bonny (Ad Infinitum, Malefistum, Rage Of Light, ex-Evenmore) pour les chœurs, on a la totale pour qu'on puisse s'écouter un bon album de pur hard rock digne de ce nom !
Parce qu'il faut bien se l'avouer : Voodoo Circle, ça rime grandement avec qualité à l'écoute de ce sixième album et ce, à l'instar des cinq précédents.
Ici, on nage dans une univers très proche de Whitesnake et de Deep Purple, avec de gros côtés Rainbow ou Led Zeppelin : véritable voyage tant dans le classic rock très seventies tout en gardant un œil sur un revival eighties pas dégueulasse, le tout avec une production aussi puissante que moderne.
Bref, Voodoo Circle se fait plaisir à nous faire plaisir !
On a du mal à ne pas y voir quelques parallèles avec le serpent blanc tant le refrain de "Flesh & Bone" fait penser à celui de "Slip of the Tongue" de qui-vous-savez, le riff de "Straight for the Heart" ramène à celui de "Bad Boys" ou la ballade – merveilleuse d'un blues tout en douceur – "This Song is for you".
Et au milieu de tout ça, les riffs se font plus heavy lors d'un "Devil's Cross" qui donne l'impression d'entendre David Coverdale chanter chez Black Sabbath.
Et que dire de ce "Magic Woman Chile", capable de nous transporter dans les univers parallèles de Page / Plant de l'album No Quarter qui mettra quelques larmichettes de plaisir dans les yeux des fans du duo mythique du dirigeable ?
Et aussi, quel plaisir d'entendre ce clavier, omniprésent, se la jouant à la façon de l'orgue Hammond d'un certain et regretté John Lord…
Bref, tout l'univers musical d'Alex Beyrodt se situe dans cette mouvance de classic rock, avec un talent qui ne se nie pas.
C'est bien simple, Locked & Loaded propose onze titres qui ne sont ni plus ni moins que onze pépites : inutile de chercher bien loin si on veut se prendre 52 minutes de pur (hard) rock 'n' roll, ce sixième album de Voodoo Circle, bébé d'Alex Beyrodt, est en passe de devenir un incontournable du genre.
Ni plus, ni moins !
Tracklist :
1. Flesh & Bone (4:01)
2. Wasting Time (5:47)
3. Magic Woman Chile (6:17)
4. Locked & Loaded (3:35)
5. Devil with an Angel Smile (3:19)
6. Straight for the Heart (4:40)
7. Eyes Full of Tears (4:39)
8. Devil's Cross (6:26)
9. Trouble in the Midnight (3:24)
10. This Song Is for You (6:04)
11. Children of the Revolution (4:08)
Site web  Facebook  Myspace
Chronique "Voodoo Circle"
Chronique "Whisky fingers"
Chronique "Raised on rock"
Retour en début de page