Le 31 juillet 2021 posté par Metalfreak
Line-up sur cet Album

Jason Quinones : Batterie / Dan Megill : Guitare / Thomas Megill : Chant, Basse / Jesse Quinones : Chant, Guitares. Guest : Ben Karas - Violon.
Style:
Death Metal

Date de sortie:
30 juillet 2021

Label:
Redefining Darkness Records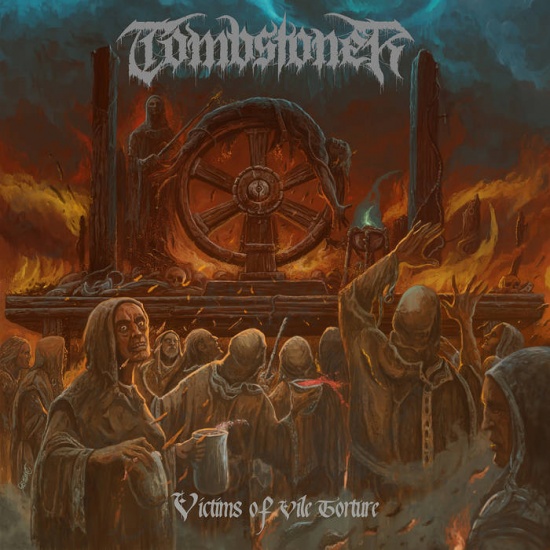 Note du SoilChroniqueur (Arno) : 7,5/10
Pour être signé directement chez Redefining Darkness Records, il doit falloir posséder de solides arguments. Mais c'est pourtant bien le cas de Tombstoner, nouvelle formation américaine qui sort avec « Victims of Vile Torture » son premier album après l'EP « Descent to Madness« .
Le death du quatuor pourrait s'apparenter à du Bolt Thrower doté d'un chanteur hardcore, ou plutôt de deux chanteurs je présume : l'un faisant les parties gutturales, mais audibles, et l'autre proposant une voix plus hurlée bien maîtrisée. Cette alternance donne une grosse patate à des compositions qui n'en avaient déjà pas trop besoin, dans le style écrasant et massif.
Et même si dans leur clip les mecs ont l'air d'apprécier la déconne, les dix titres, eux, ne blaguent pas vraiment.
Un matraquage en règle comme on l'aime, simple, efficace, et qui laisse des séquelles.
Tracklist :
1. Victims of Vile Torture
2. Sledgehammer
3. Breaking Point
4. Fractured Souls
5. Grave Dancer
6. Nothing's Sacred
7. Frozen in Fear
8. Armageddon
9. The Witch
10. Trepidation
Retour en début de page